Doing more with less
Rather than focusing on quantity, we prefer quality. This is why we have decided to concentrate on the essential pieces of the women's wardrobe: Comptoir des Cotonniers produces less, paying more attention to the icons of a wardrobe. Our garments are carefully tailored down to the finest detail to provide long-lasting wear.
Between 2020 and 2022, we have thus reduced the number of references in our collection by 60%, and we only renew 50% of our collection each year.
This approach is based on a regular review of the choice of materials, product designs and production processes employed.
Demanding materials choices
The raw materials used in a garment have the greatest social and environmental impact. This is therefore our first lever of commitment. Over 80% of the fibres used by Comptoir des Cotonniers are natural (cotton, wool and linen).
We prioritise the highest quality materials and, wherever possible, alternatives that have a lower impact on the environment. It's a good start, but we know it's not enough. We therefore aim to go further by seeking out more responsible alternatives to conventional materials.

with extra-long fibres ensuring an extremely high level of quality and durability
of our collections
are made of
linen
,
a material that naturally consumes
less water (mainly rainwater)
of linen is produced in
France and in Europe
(Data for the Fall-Winter 2022 collection)
WHAT DOES THIS MEAN IN TERMS OF OUR PRODUCTS?
DENIM
T-SHIRTS
made from
from organically-grown cotton
or
Tencel™
DOWN JACKETS
made of down providing from
RDS
certified garment factories, a label that guarantees animal welfare and traceability
DRESSES
& SKIRTS
made of organically-grown cotton, viscose from eco-managed forests, RWS wool, and recycled polyester
COATS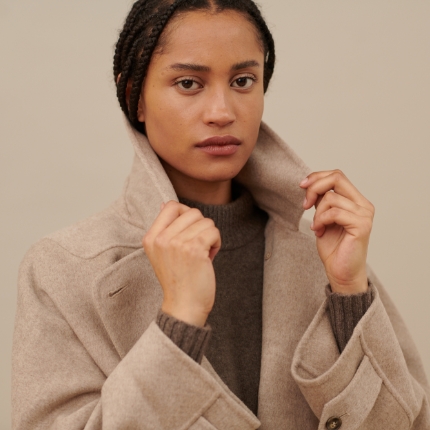 made from
recycled materials
, or
RWS wool
(Data from the Fall-Winter 2022 collection)
(The percentage of products made of over than 50% eco-friendly materials)
Taking care of
your clothing, together
Helping you to be a responsible consumer also means helping you extend the life of your wardrobe, while preserving the environment.
Comptoir des Cotonniers has put together a care guide full of useful information and advice on how to look after your clothes effectively. For example, to care for your wool jumpers, did you know that you just need to air them out, rather than washing them each time you wear them? This increases their lifespan and reduces water and energy consumption.