Gift Certificates
The entire Comptoir des Cotonniers
collection is at your fingertips with this personalised gift card that is sure to be a 100% success!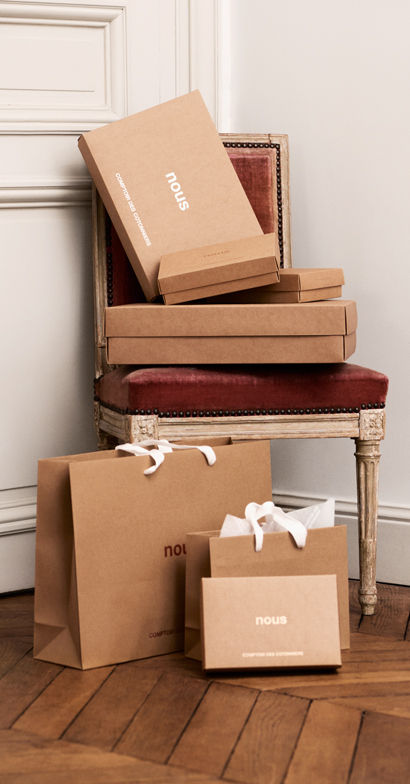 GIFT CARD*
Only available in boutiques
Valid for 12 months starting from the date of purchase in Comptoir des Cotonniers boutiques in France, Belgium and Italy and without timelimit in Germany and Spain (excluding department stores and websites).
1€ will be donated to Tissons la Solidarité* for each Gift Card or E-gift card purchased
---
E-GIFT CARD**
- Available in amounts between 20 € and 999 €
- E-mail delivery
- Can only be used on comptoirdescotonniers.eu
- Valid for 12 months from the date of issue
You already have an e-gift card?
To check your balance, enter the code here :
* The purpose of the "Tissons la Solidarité" label is to support women who are re-entering the job market by giving them professional experience, with training for the creation of a collection based on recycled and unsold clothing. This project is sponsored by Christian Lacroix. Click here for further information: : http://tissonslasolidarite.org/
**The Comptoir des Cotonniers e-gift card is available for any amount between 20€ and 999€ inc. VAT. It is only available to use on www.comptoirdescotonniers.com. The e-gift card recipient must create a customer account to be able to use it. The e-gift card is not named. The recipient is solely responsible for use of the e-gift card. No replacements or refunds apply if the e-gift card is lost, stolen or the expiry date is exceeded. The customer will be asked to provide the e-gift card recipient's email address when they place the order. The customer has the option to write a personal message which will appear virtually in the e-gift card. The recipient will receive an email once the e-gift card order has been confirmed. The email includes the e-gift card stating the amount and expiry date along with a code to use on the website. The code is activated upon receipt of the customer's order confirmation email which means the recipient can use it immediately.

E-gift card terms of use. The e-gift card is valid for one year on the www.comptoirdescotonniers.com website starting from the date the e-gift card email was sent. After this date, it can no longer be used on the website. Should the recipient's order exceed the value of the e-gift card, they must pay the difference through the payment method of their choice. The e-gift card can be used several times until the total amount has been used, within the aforementioned period. Several e-gift cards cannot be used on one order: only one gift card per order. The e-gift card amount will be applied to the order total including VAT and delivery charges. Should the recipient wish to return goods paid for using an e-gift card, as per the terms outlined in article 8 of the Terms of Sale on the Comptoir des Cotonniers website, they can either exchange the goods or receive a voucher but they cannot be refunded the price of the goods. The aforementioned Terms of Sale apply to e-gift cards, with the exception of terms regarding the refund of the aforementioned goods and article 7 of the Terms of Sale which only applies if the e-gift card has not been used, even in part. Should the e-gift card be used in full or in part, no right to withdraw or refund of any kind for the goods applies. Should any of these terms contradict the Terms of Sale, these terms apply.