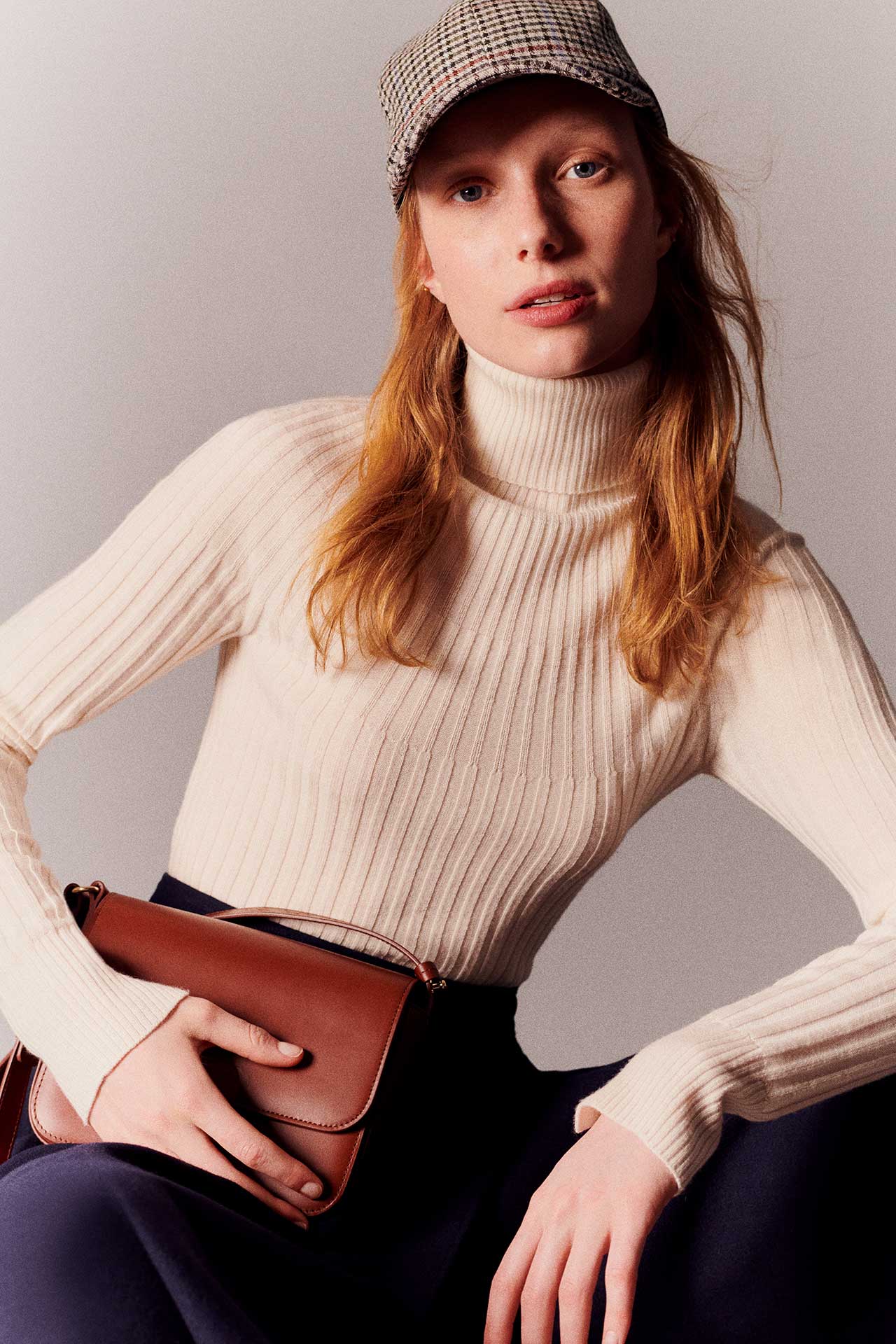 COLLECTION
Autumn-Winter 2022
Autumn/winter 2022 is looking hot! A colour palette that runs from terracotta and sand brown to forest green and stormy anthracite. Vibrant natural tones that glow. In a collection that couldn't be chicer. Perfect!
The essential pieces are all here. The keepers. The glossy down jacket, unlined wool coat, elasticated boots... Attention to detail meets timeless classics. Beauty is never out of fashion.
The Iconiques have been updated. With a subtle twist. From the Marguerite trousers and Catherine trench to the Sydonie balloon jeans, the colours glide from copper to midnight black. But one thing brings them all together: the confidence of French casual chic with that signature "je ne sais quoi".
The brand's vision is unchanged. If anything, it's stronger. With styles that suit everyone's lifestyle. From dawn to dusk, there are many sides to a woman. Casual, rushed, relaxed, focused, elated... Comptoir clothes match any mood. A houndstooth cap to spice up a sand bouclé wool coat. A funnel neck jumper tucked into a mini skirt. Or eveningwear in a blazer and trousers, in midnight blue of course. Every decision is a promise: understated, sharp, creative.
Comptoir des Cotonniers creates fashion for everyone. Yet it's unique. You can never go wrong with these pieces. A mini dress with bright oversize florals on a black background gets cheeky with its ruffled collar and cuffs, especially when you slip a maxi midnight down jacket over it.
"
The brand's vision is unchanged. If anything, it's stronger. With styles that suit everyone's lifestyle.
"
SPICY MOOD...
With the grace and confidence of a rock 'n' roll ballerina, the collection performs a balancing act: ultra-wearable, ultra-chic, ultra-comfortable. And the devil is in the detail. Like this season's hot check patterns. They're eye-catching and vamp things up when you rock into town. The trousers play with different lengths to suit your every mood: straight with extra-long legs, wide with ankle grazing hems or cropped and skinny.
Comptoir's beliefs are stronger than ever. We're fuelled by responsibility, driven by eco-sourcing and focused on recycling and product care. The brand becomes more demanding every season to keep up with the times.
To give every woman honest, irresistible fashion that glows.