FOR YOUR OWN SAFETY
MAXIMUM OF PERSONS ALLOWED IN THE STORE
We reserve the right to regulate the number of people in the store.
The team will invite you in.

SOCIAL DISTANCIATION TO KEEP
Please keep a distance with each other of at least 2 meter whether it is with our teams or with the other customers.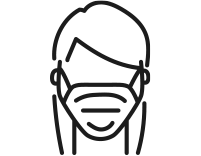 MANDATORY MASK
Our teams are wearing masks.
We kindly ask you to do the same.

MANDATORY GEL
Hydro-alcoholic gel is available at the entrance of your store.
We kindly ask you to use some upon arrival.

CLEAN ENVIRONMENT MAINTAINED
Our stores and fitting rooms are sanitized regularly throughout the day.

SANITIZED PRODUCTS
Our products are regularly steamed.

CARD PAYMENT PRIORITIZED
We kindly ask you to pay your purchases by card.

APPOINTMENTS ARE POSSIBLE
Our teams are available to make appointments in order to give you a personalized service.

CALL AND COLLECT
How does it work:
Step 1: You can call the store of your choice to reserve your product.
Step 2: Come pick up or try in store and get personalized advice.