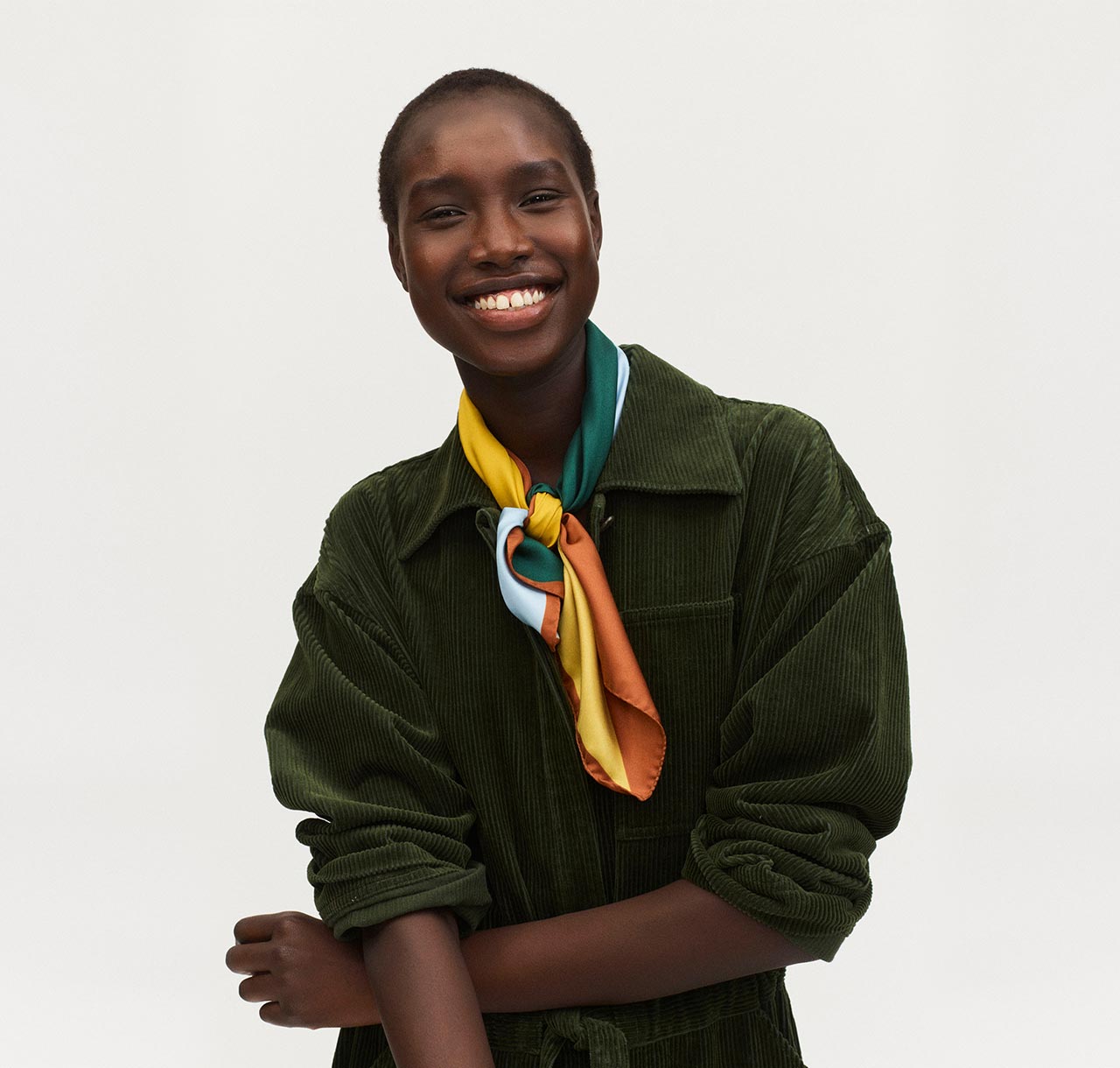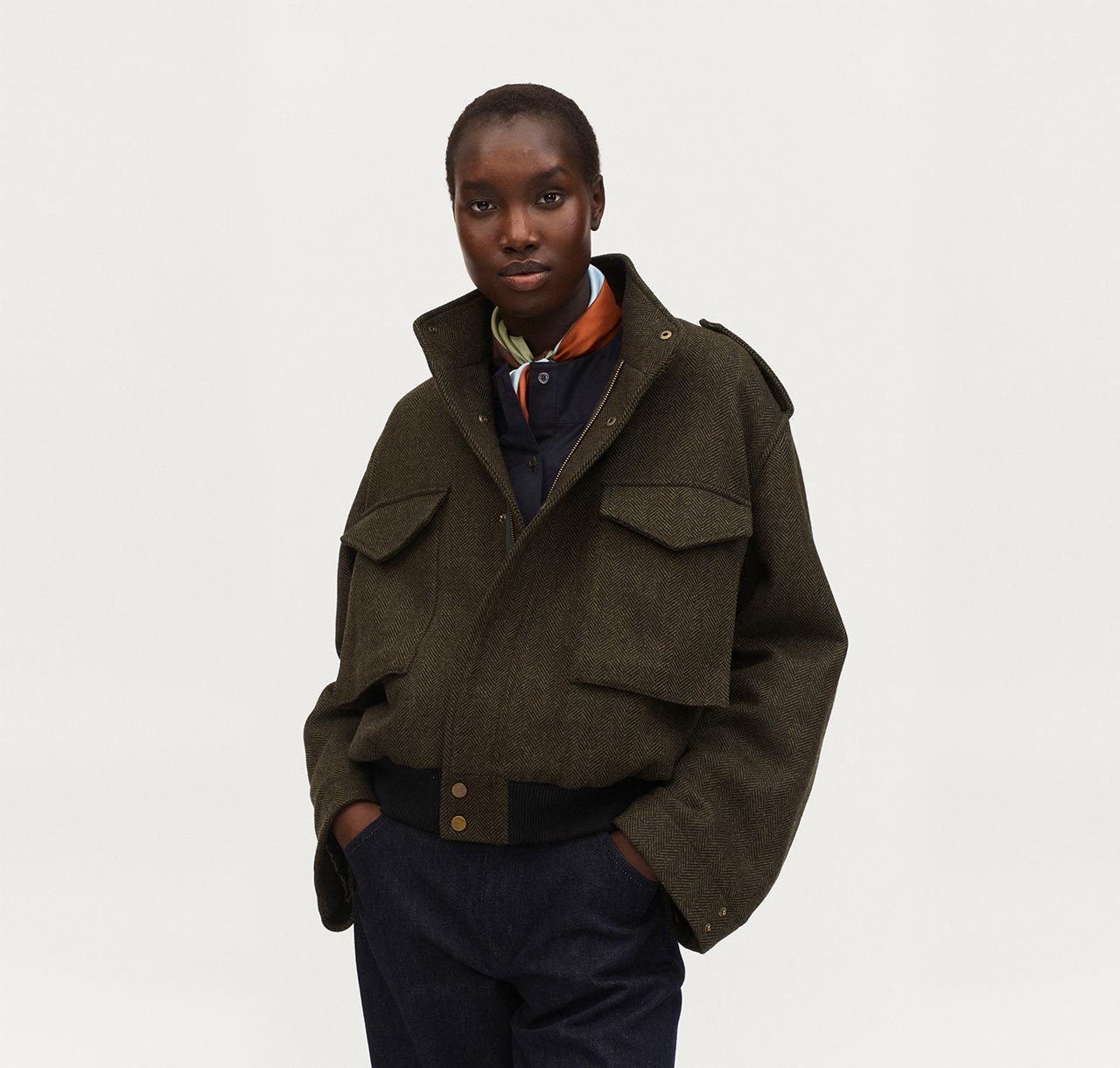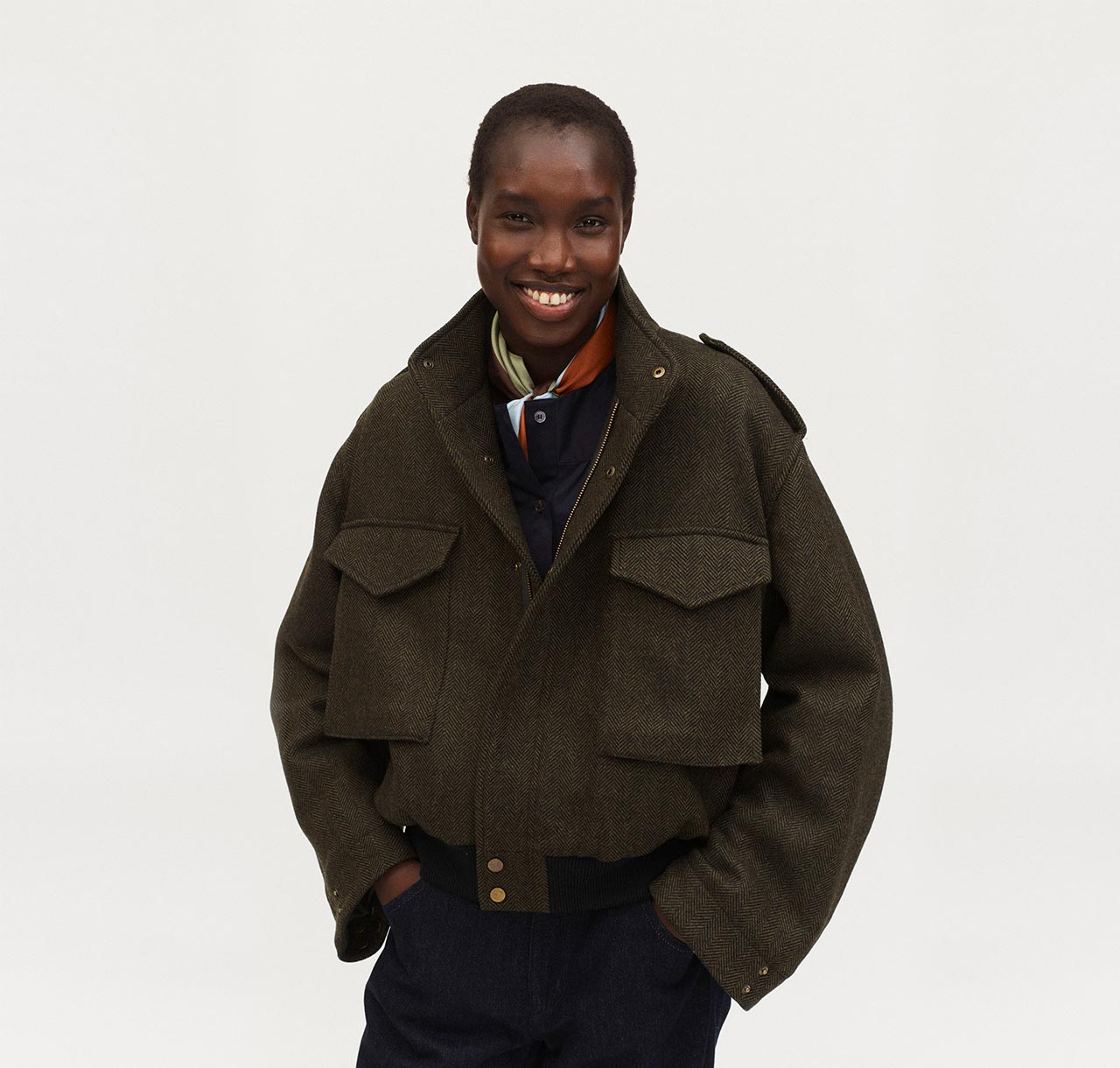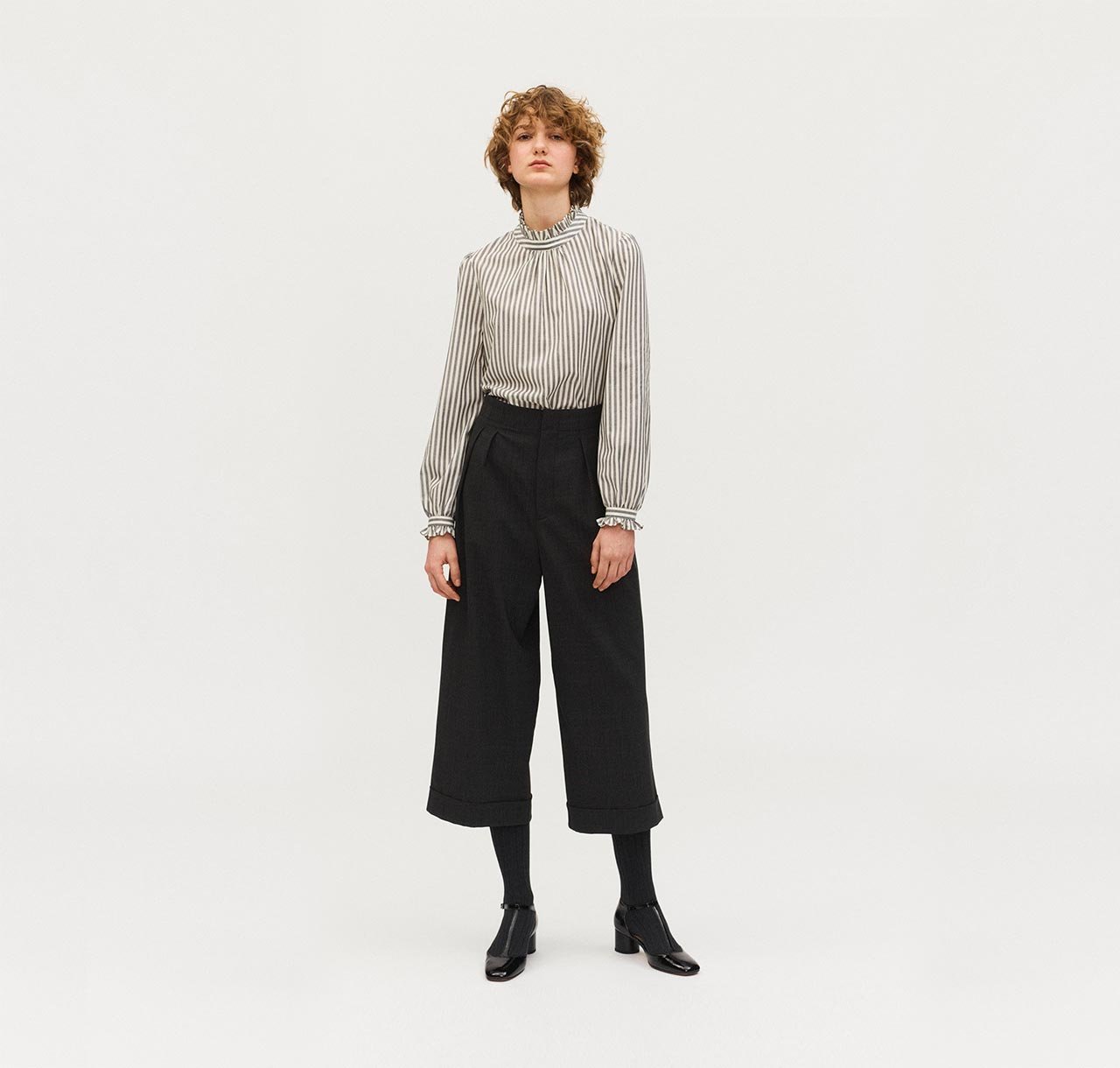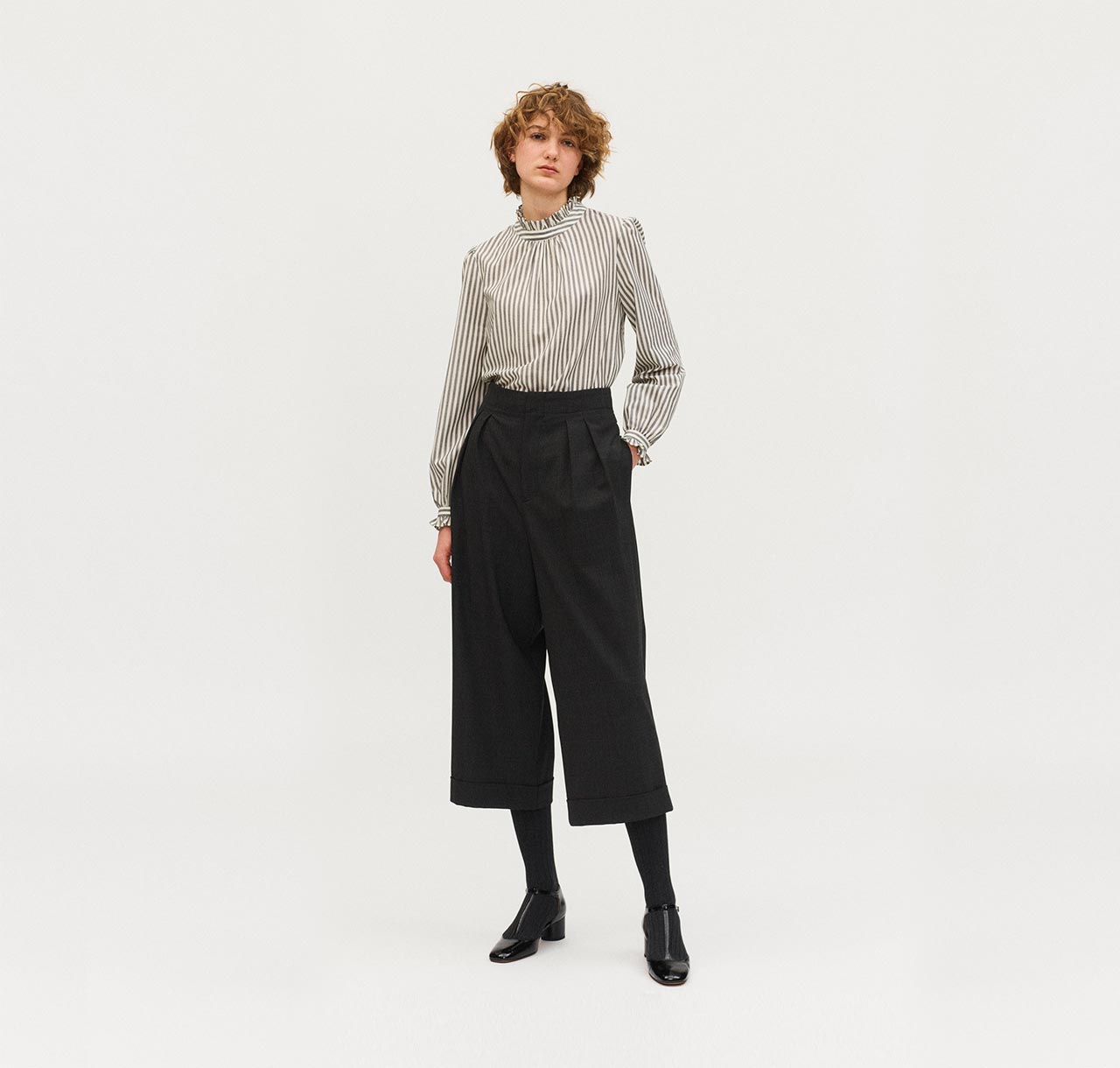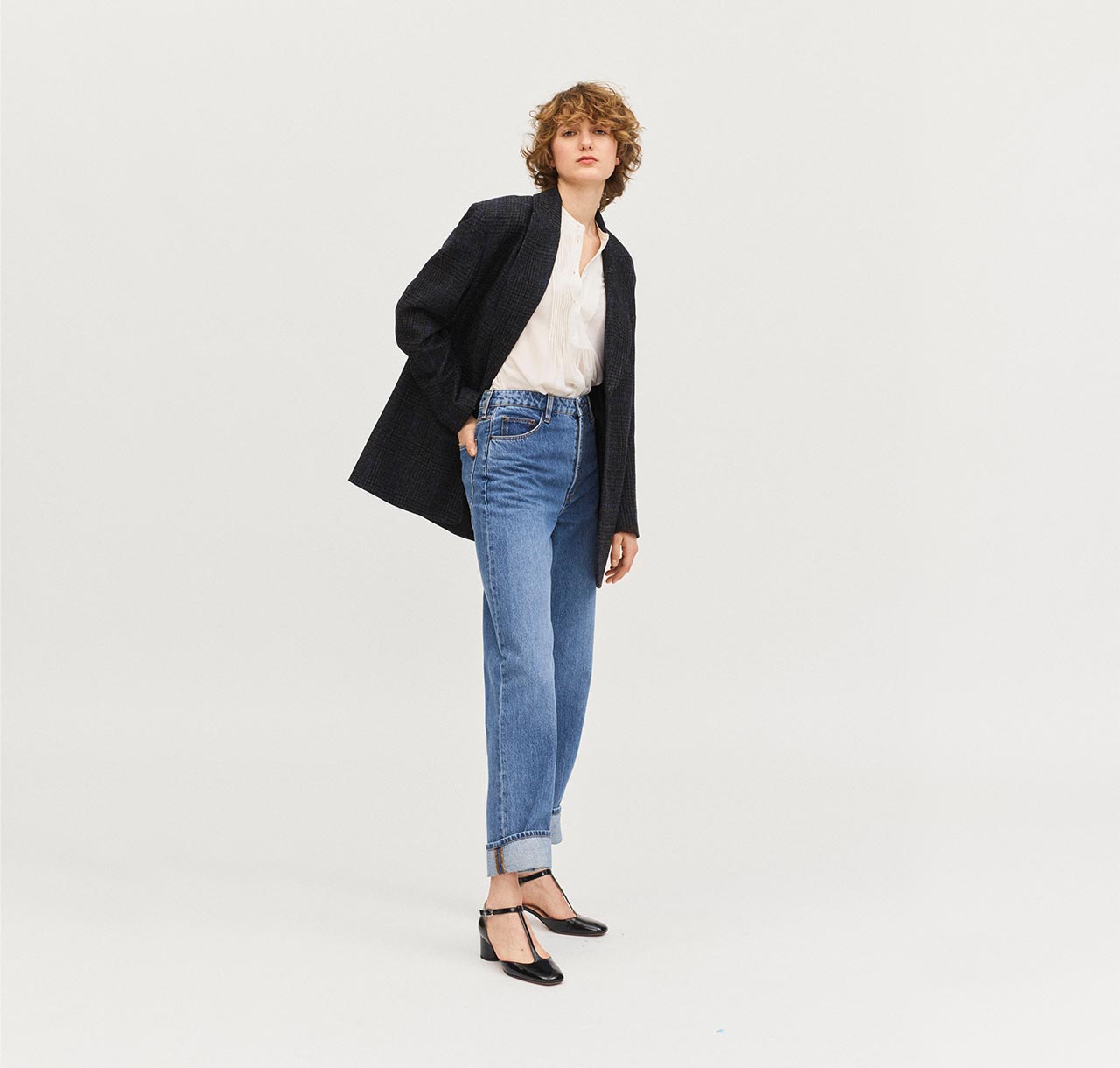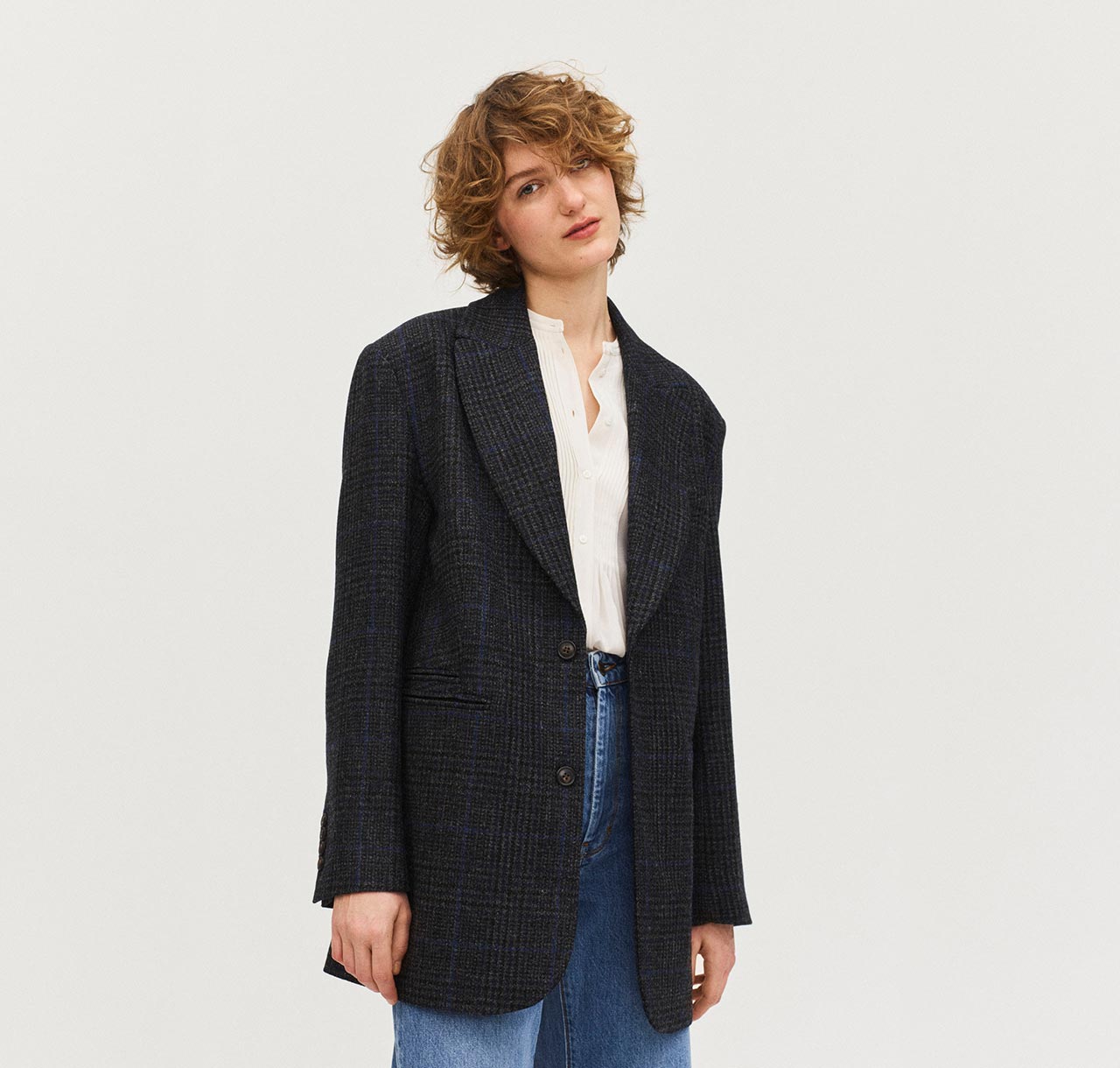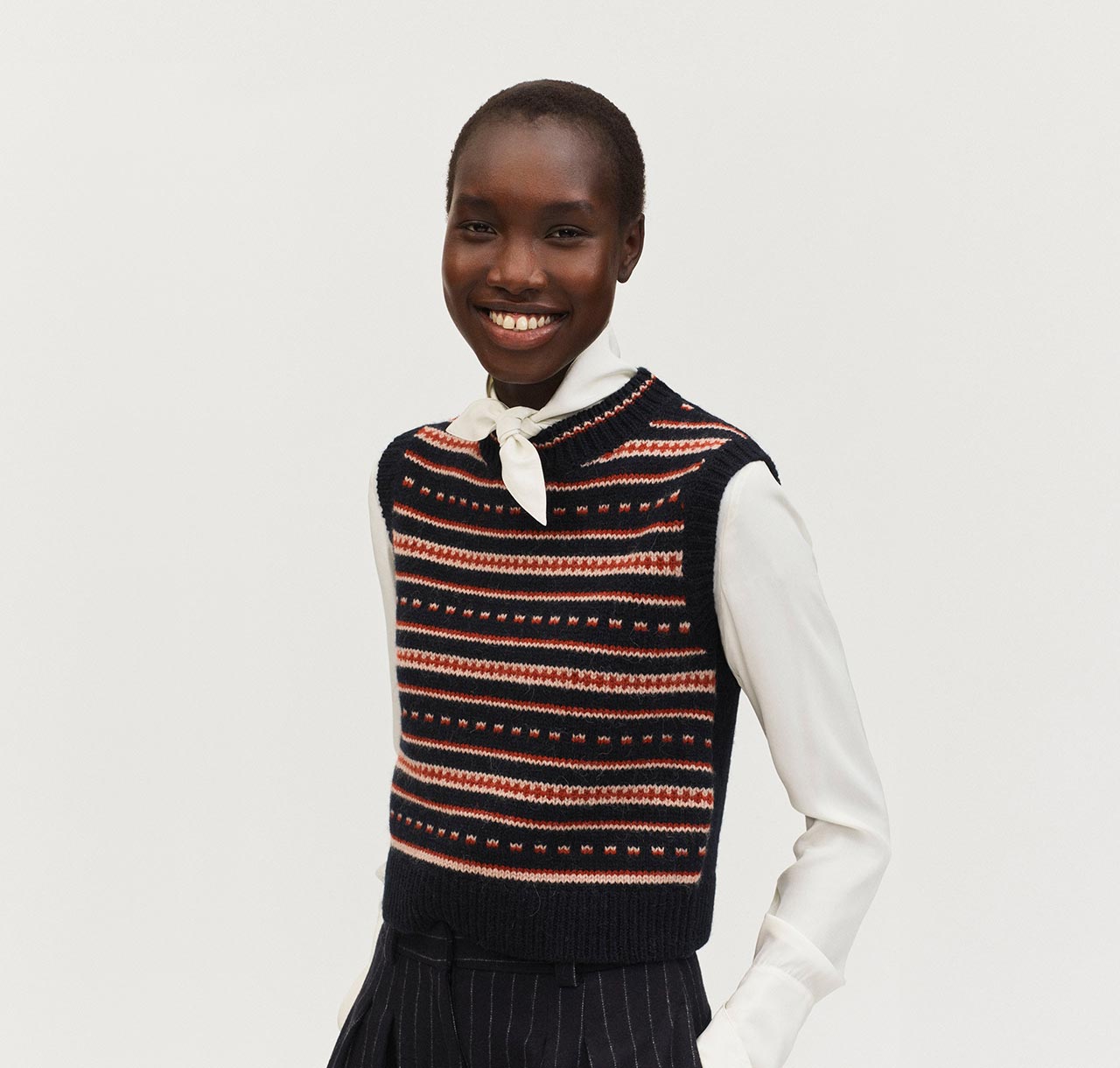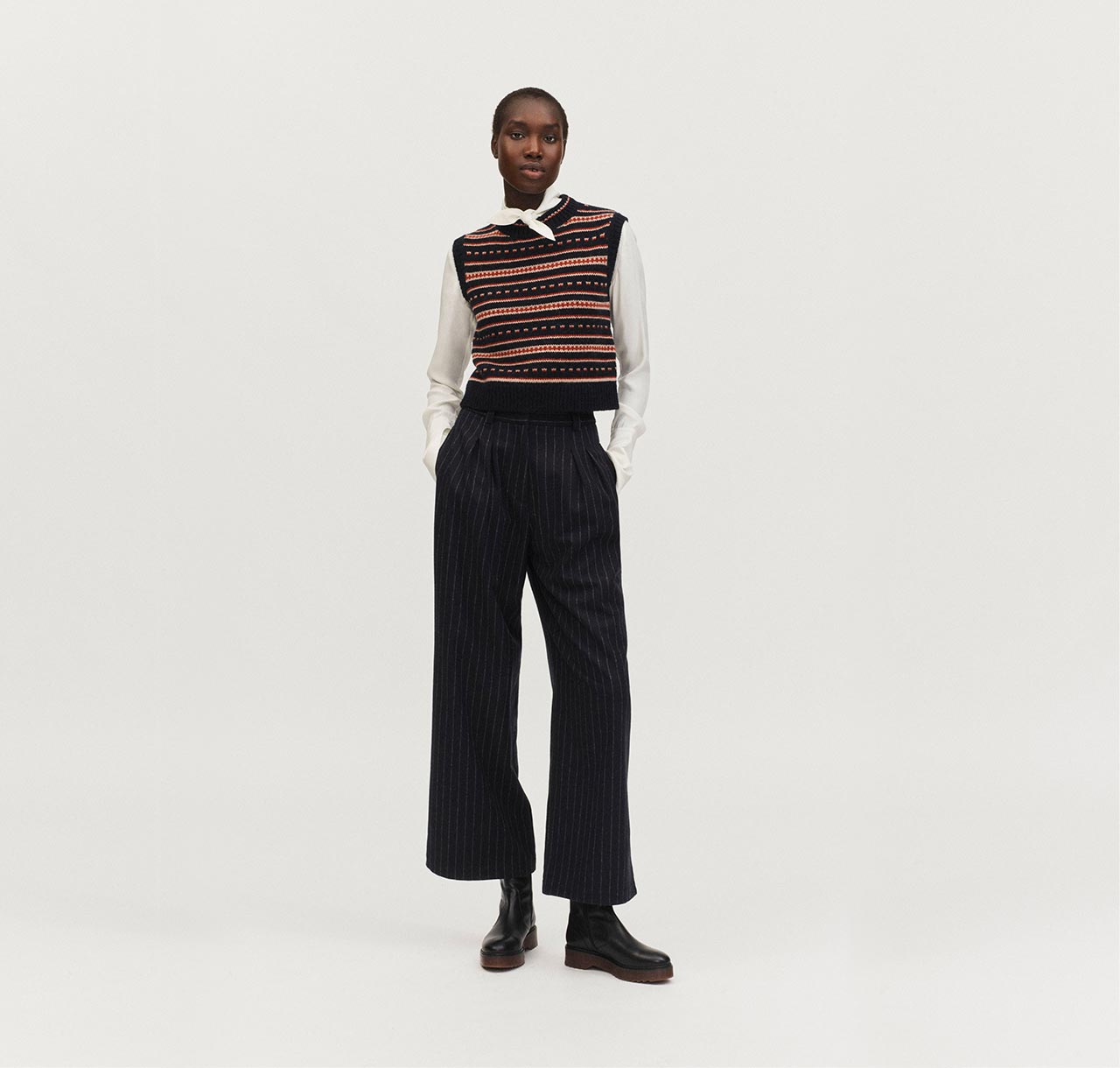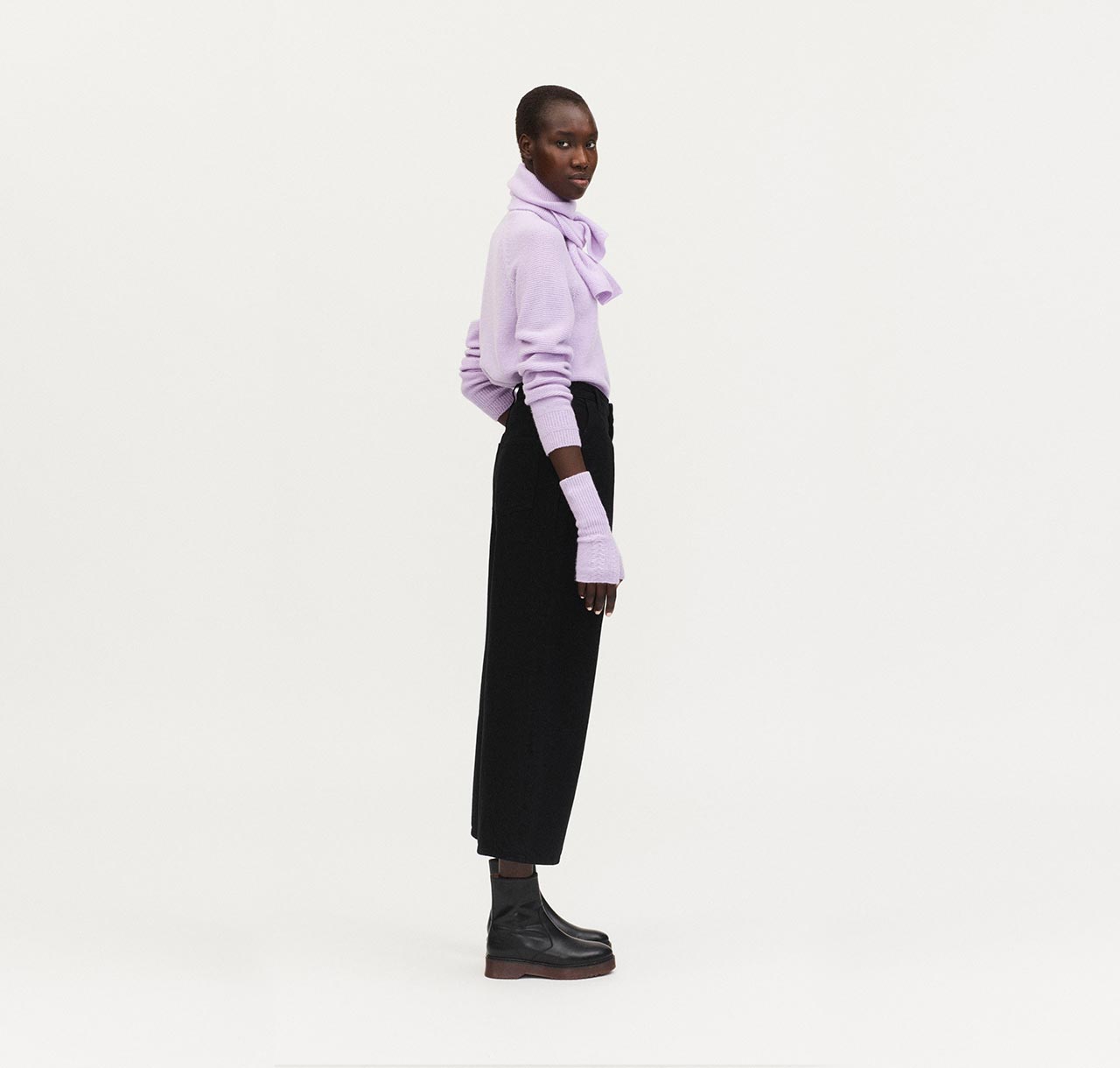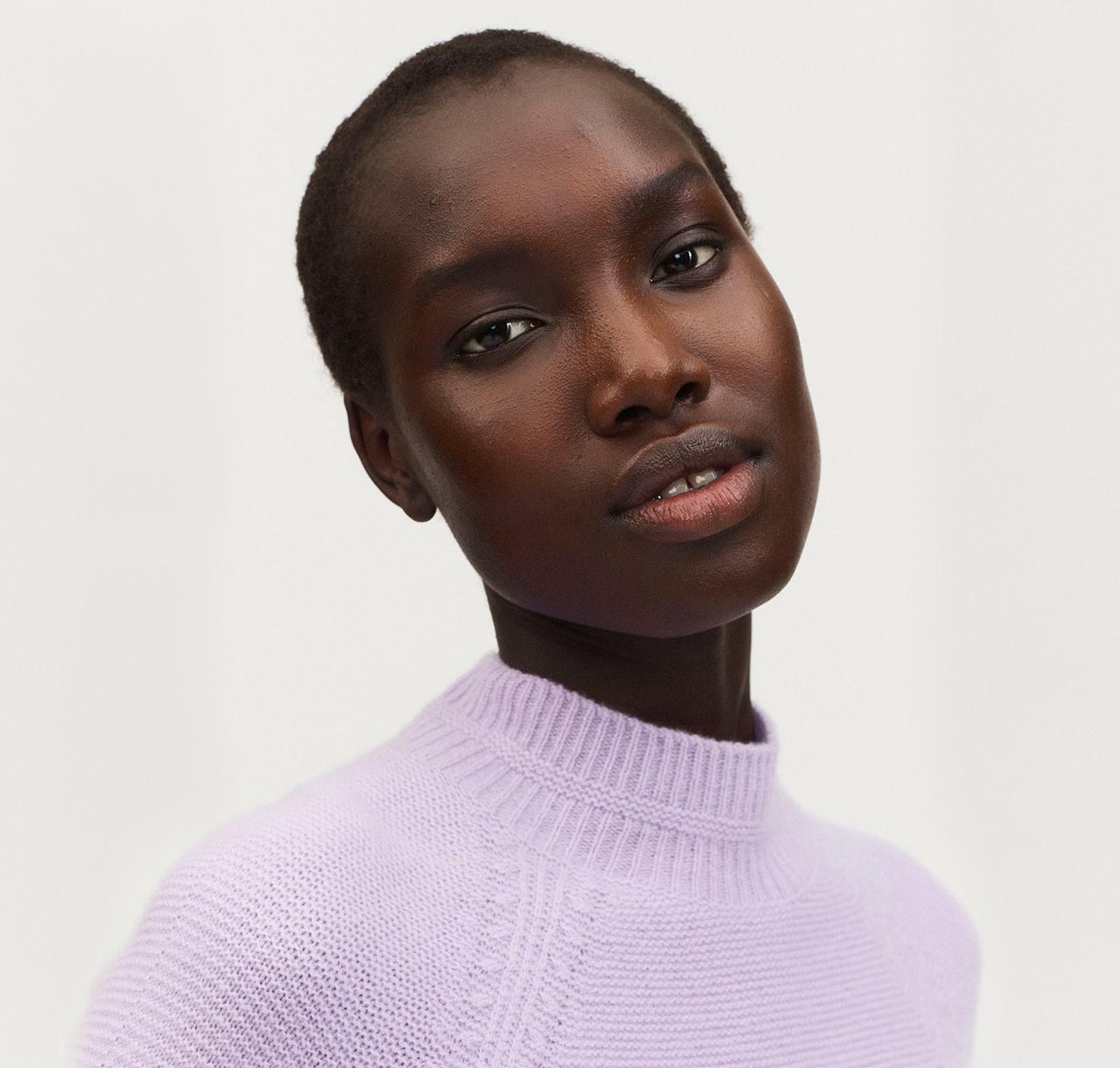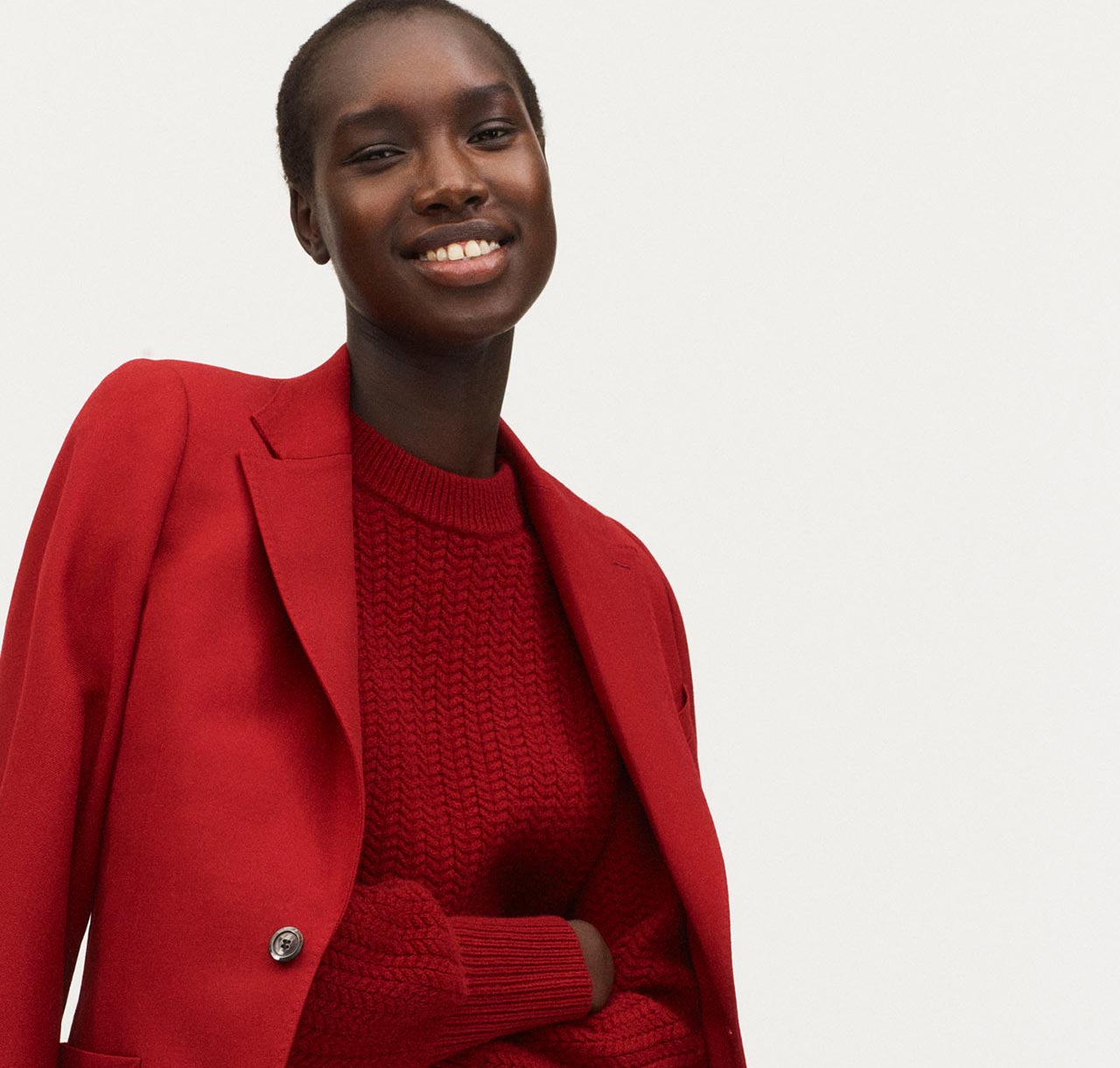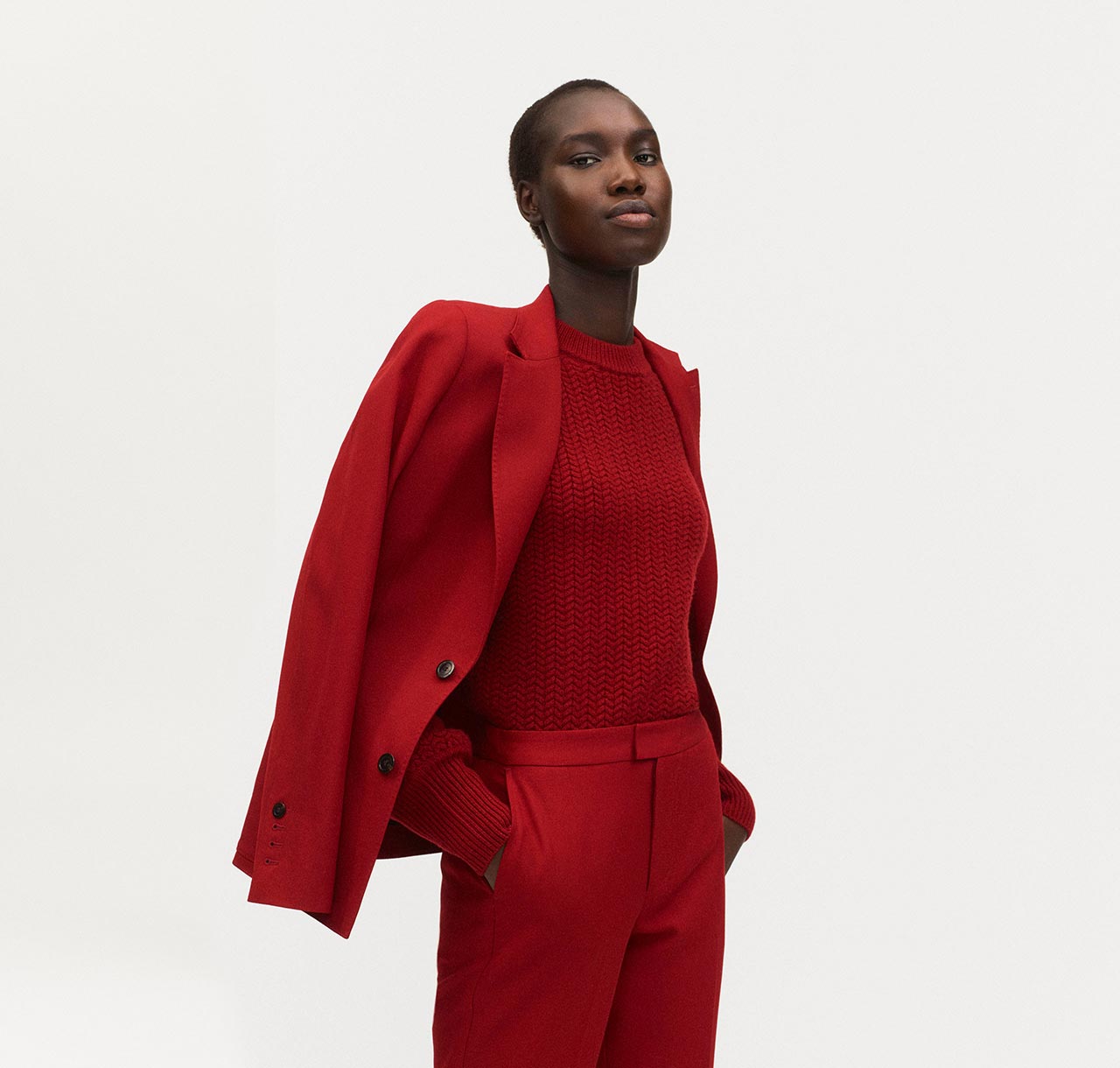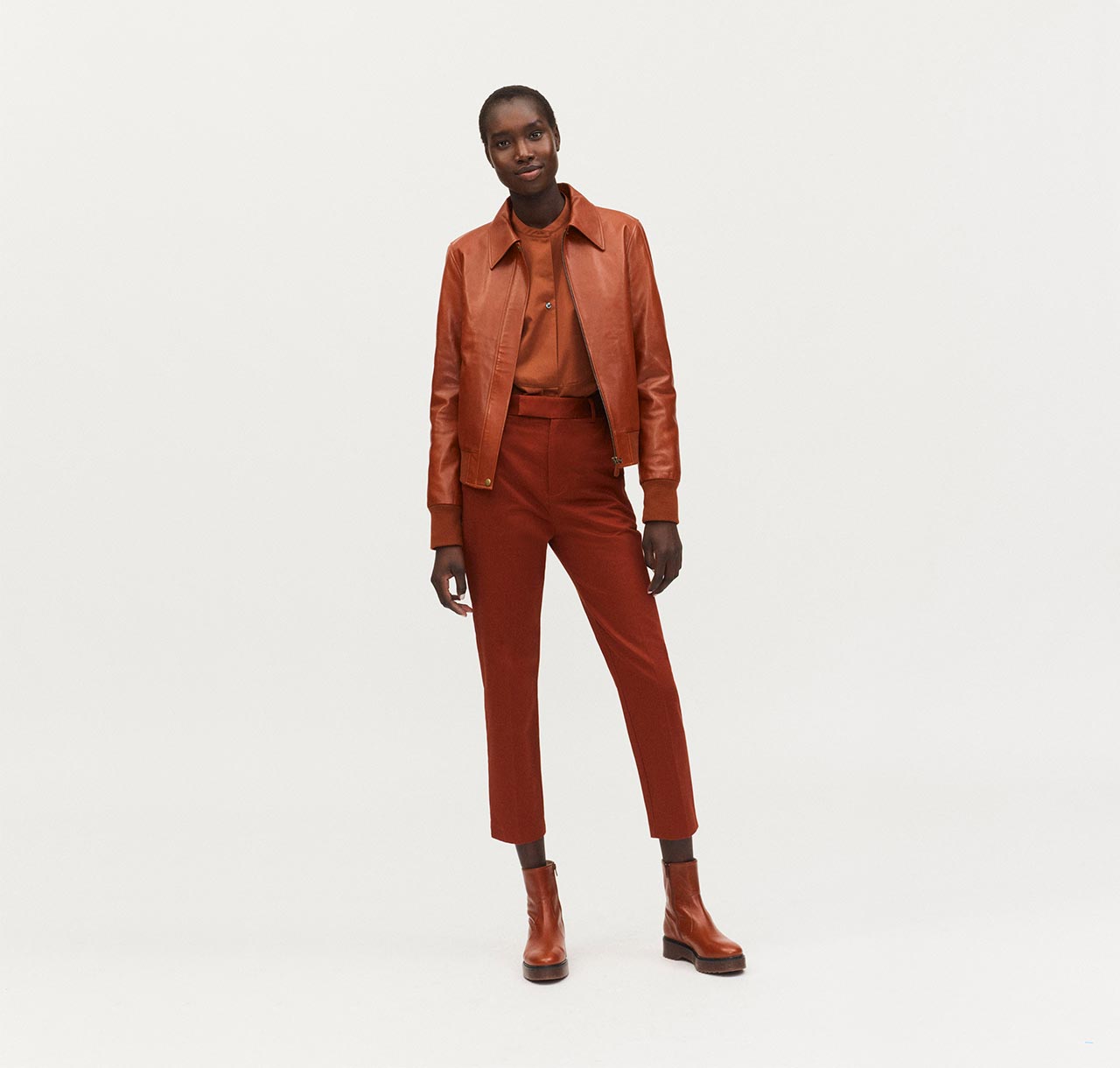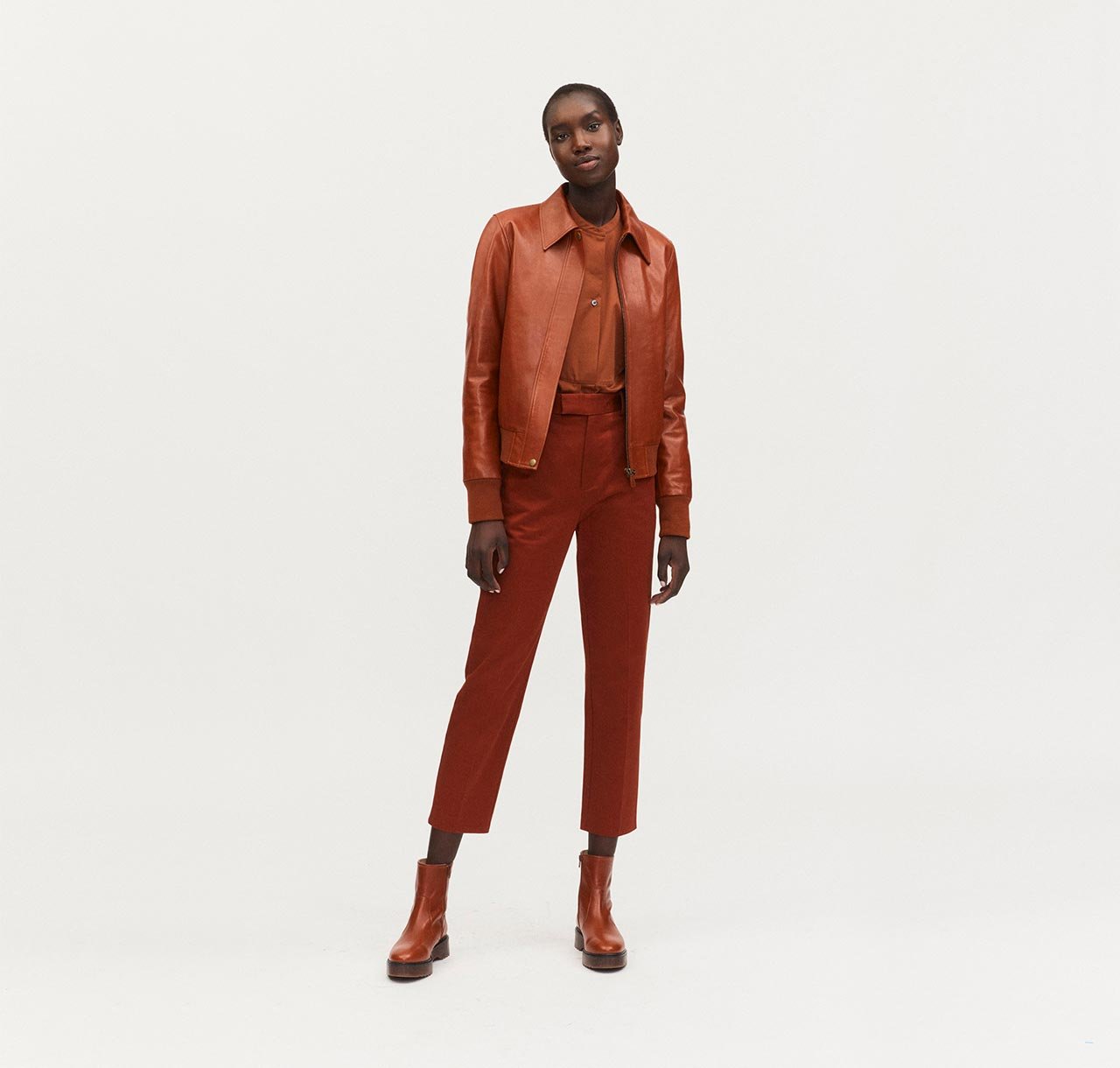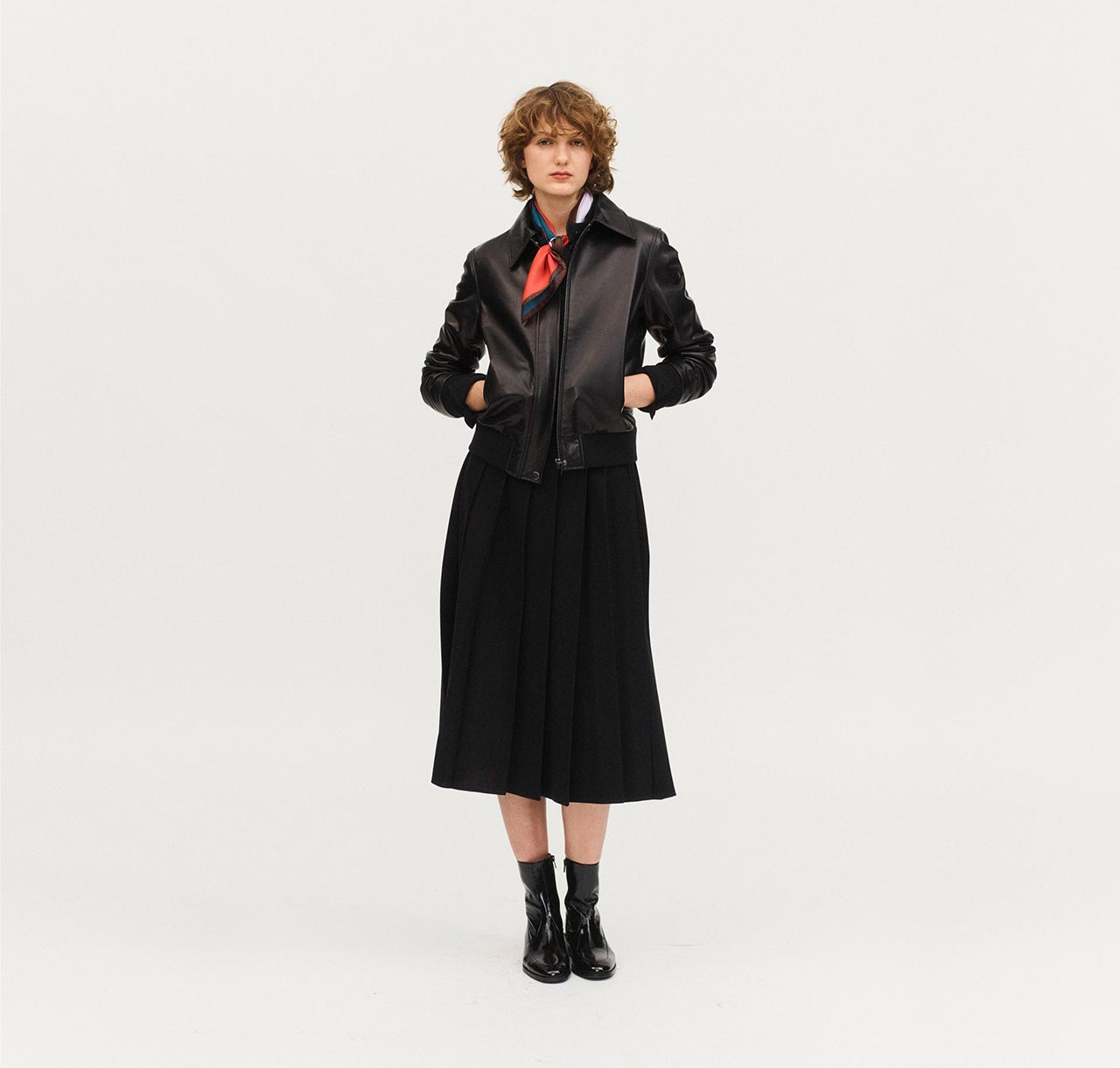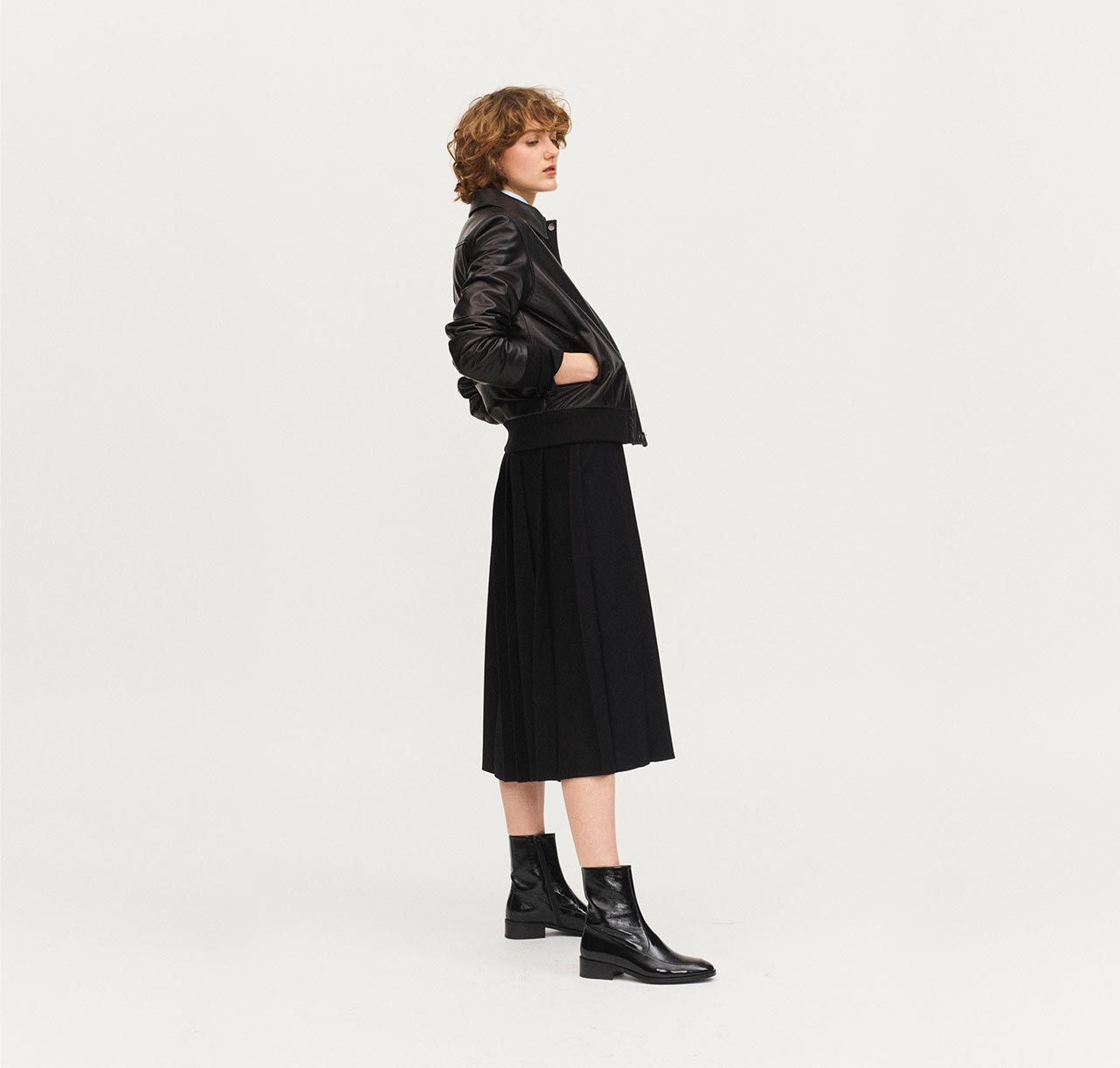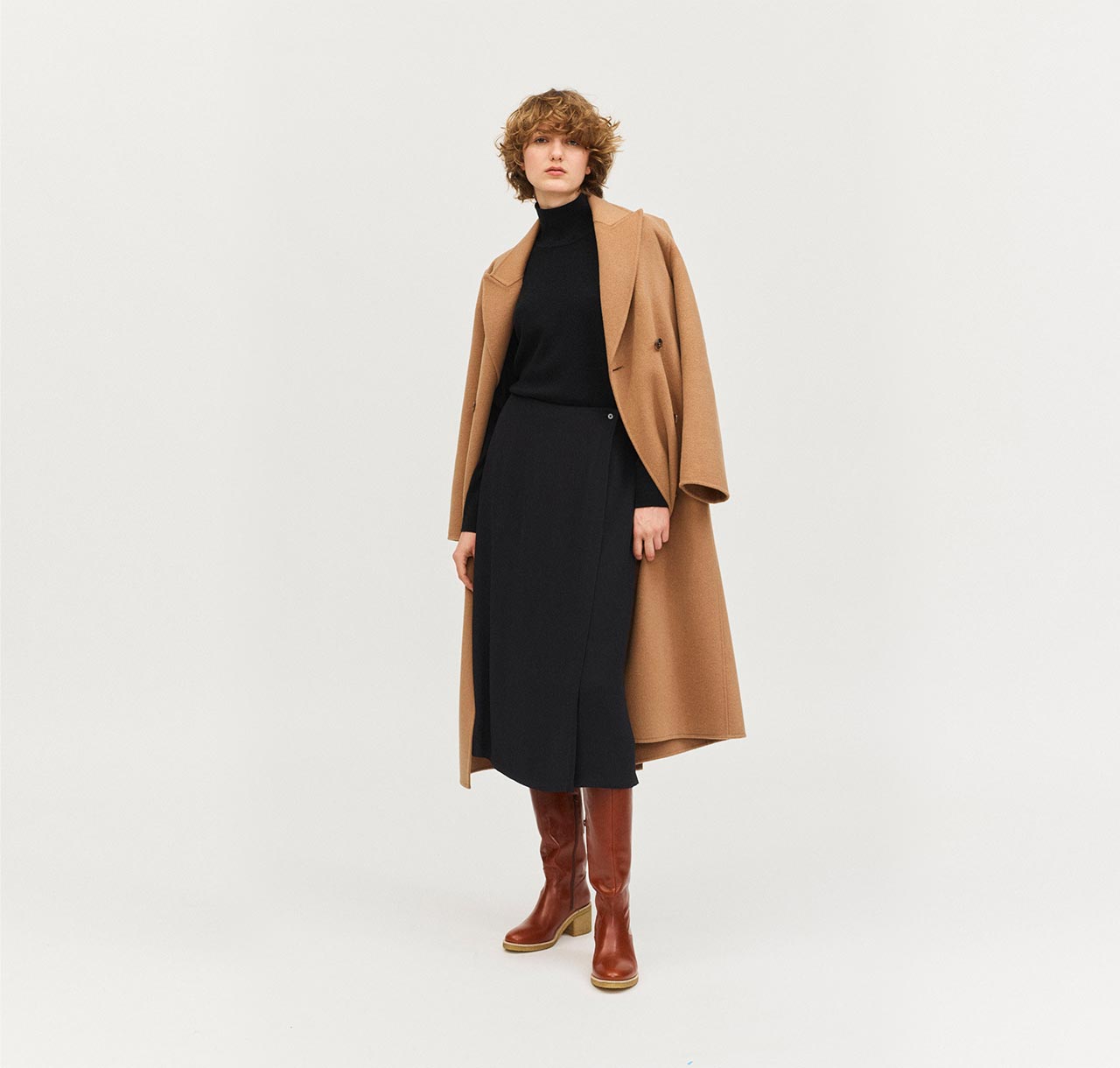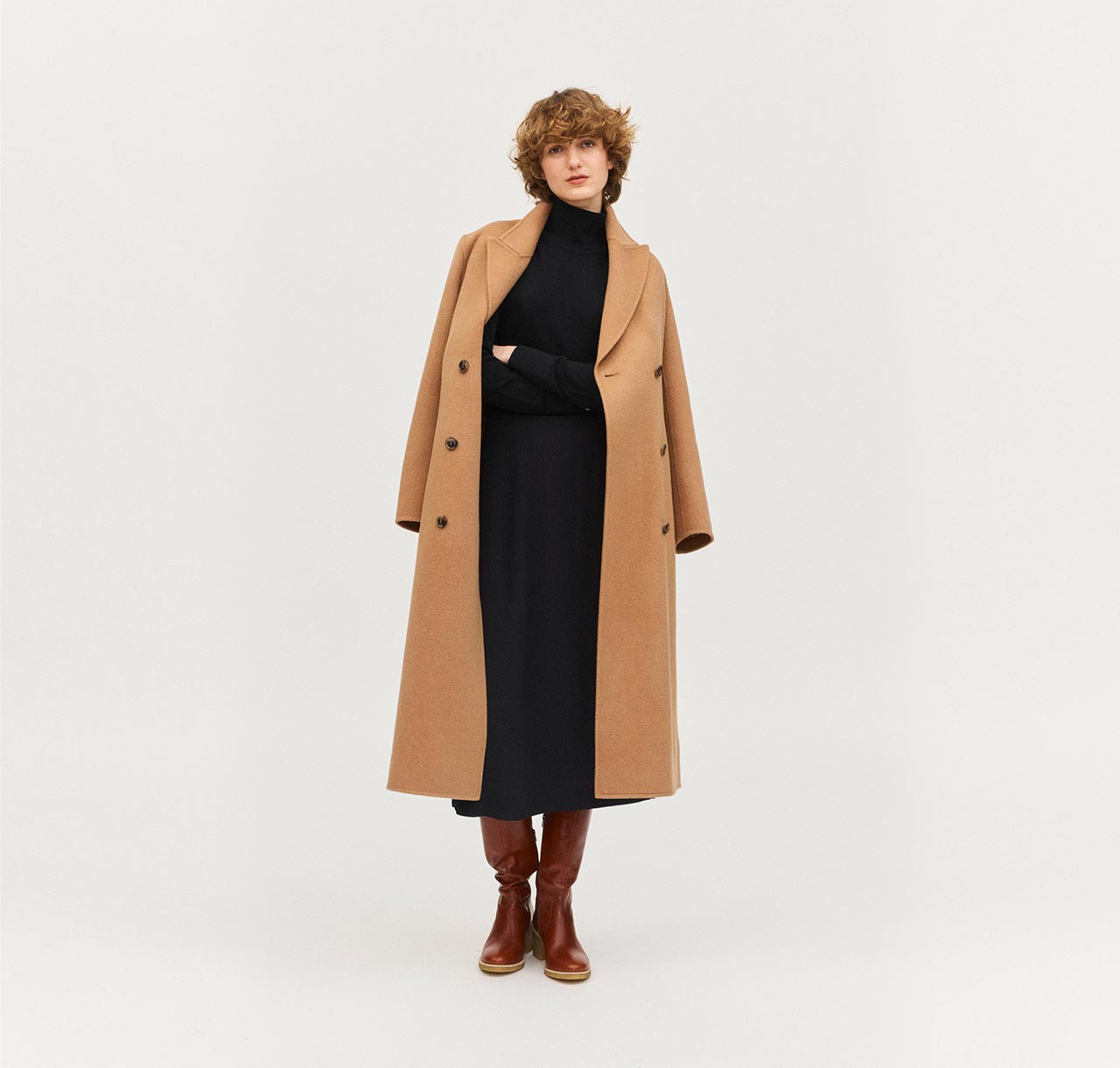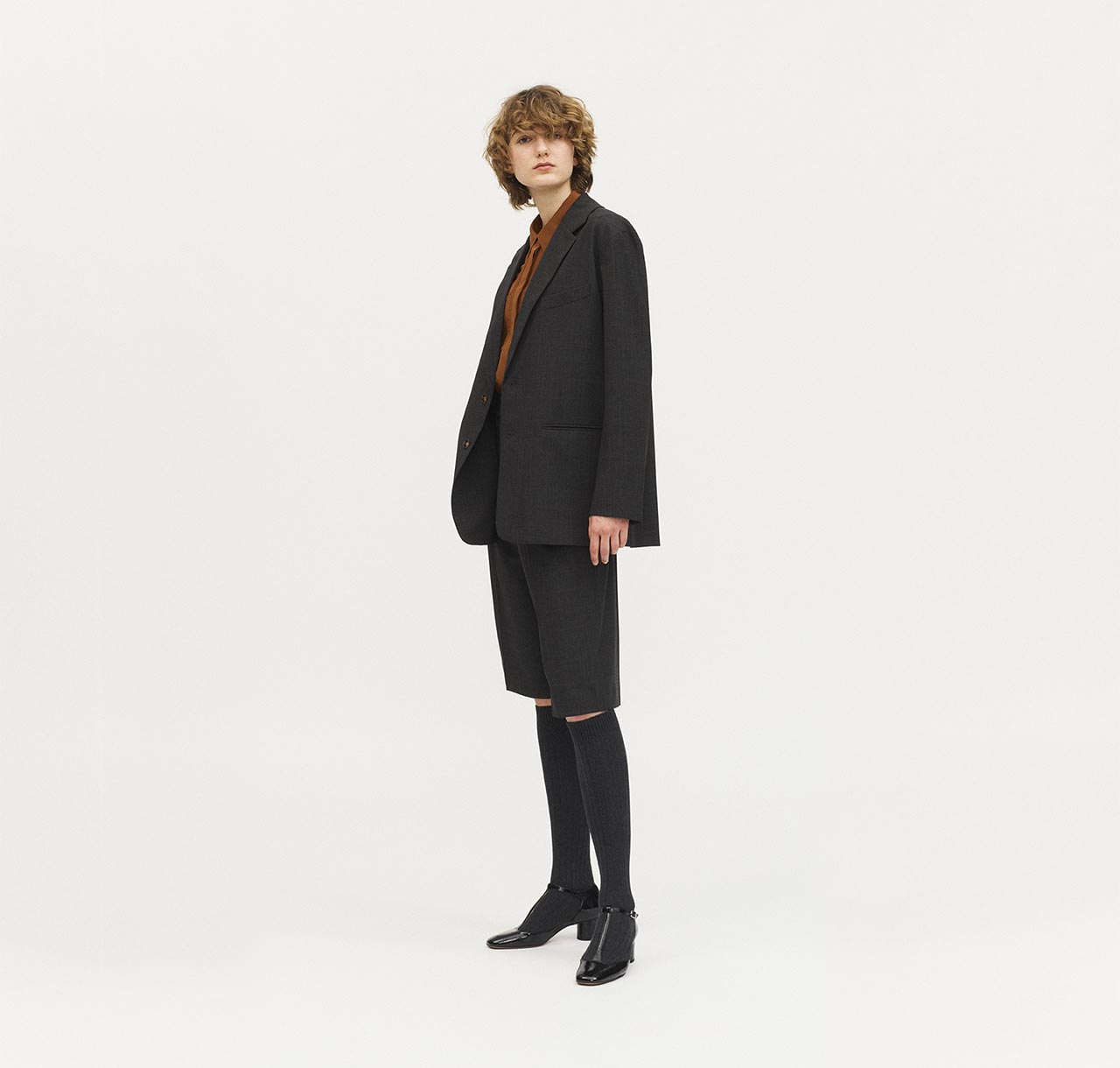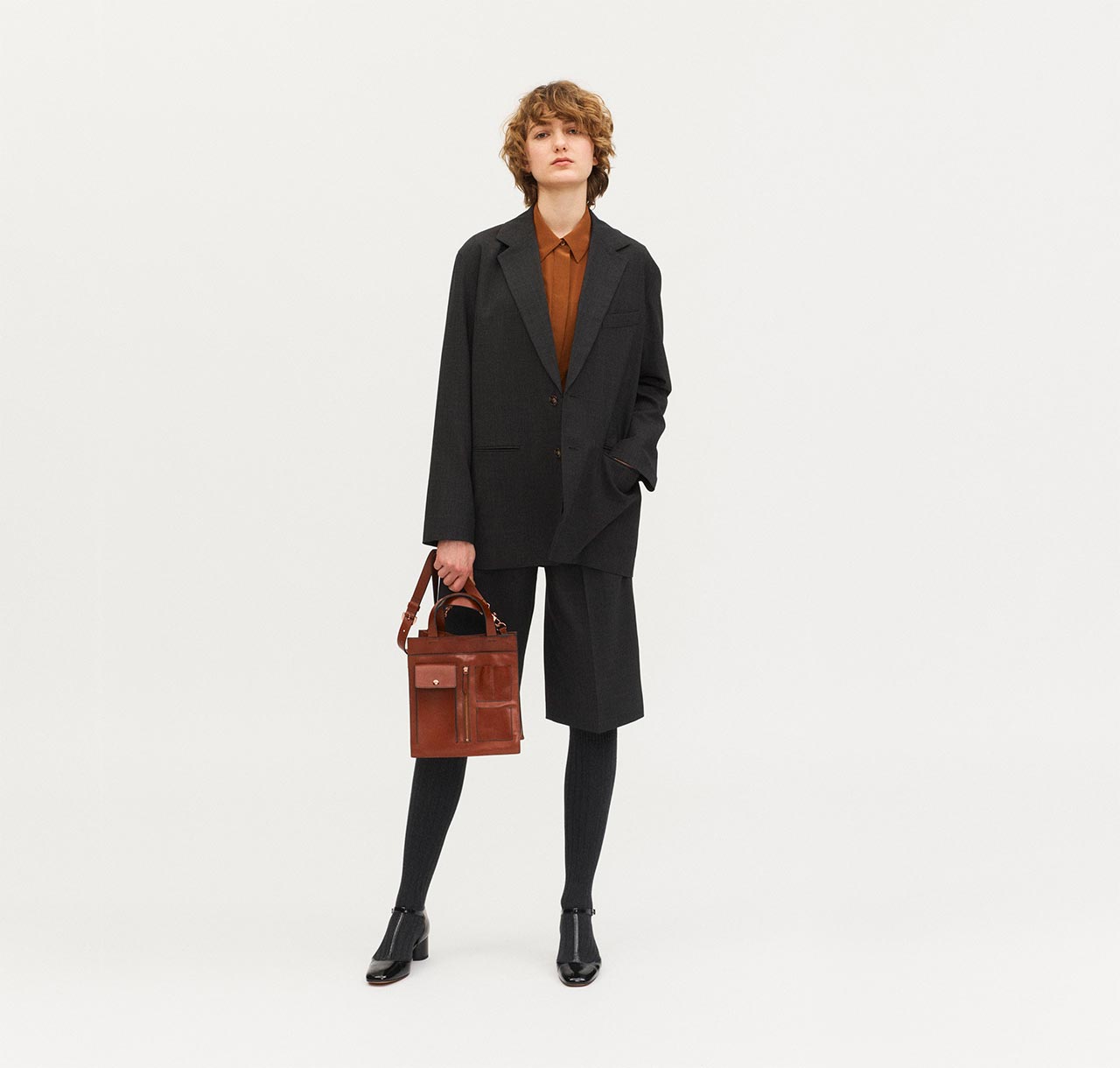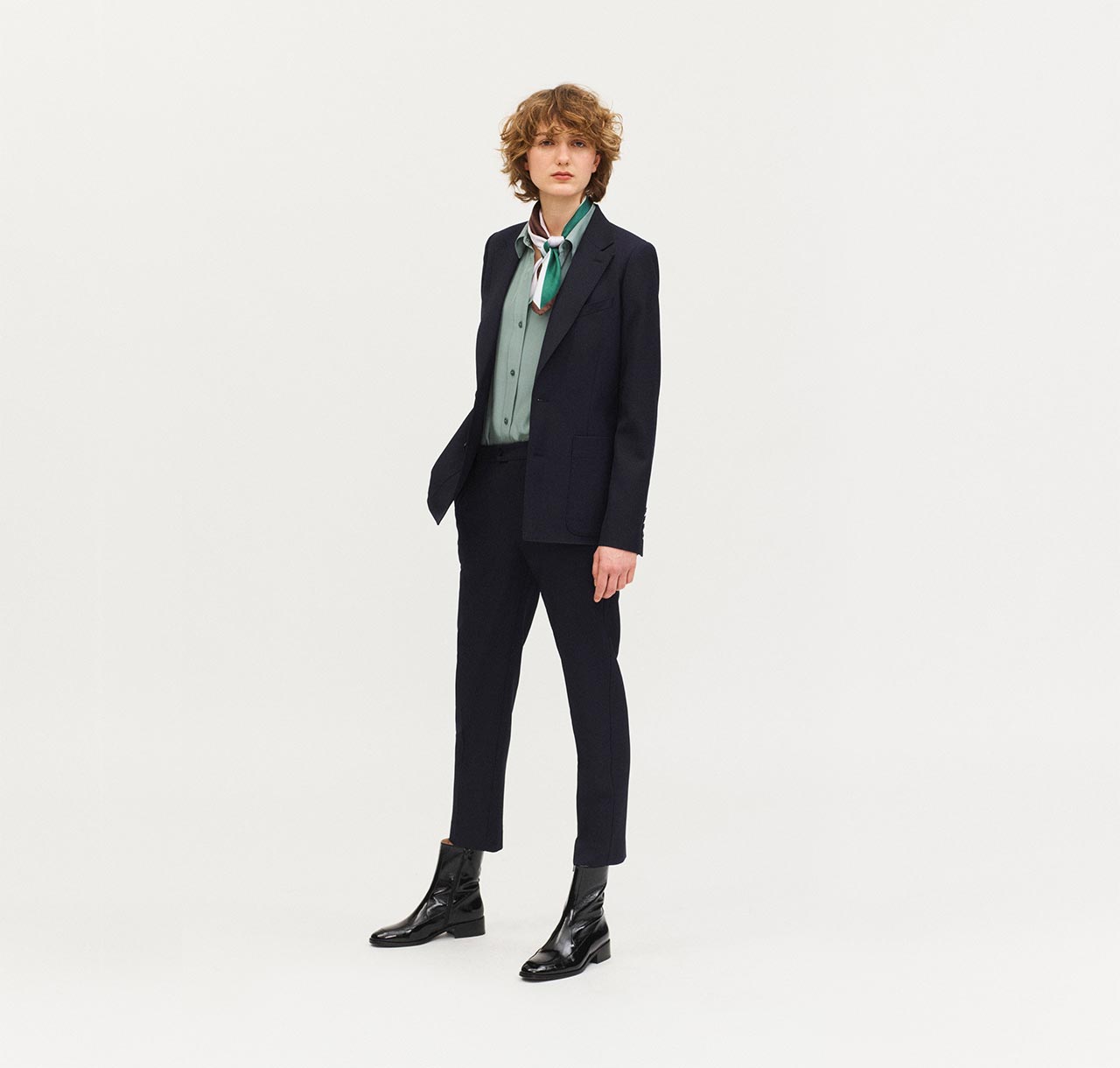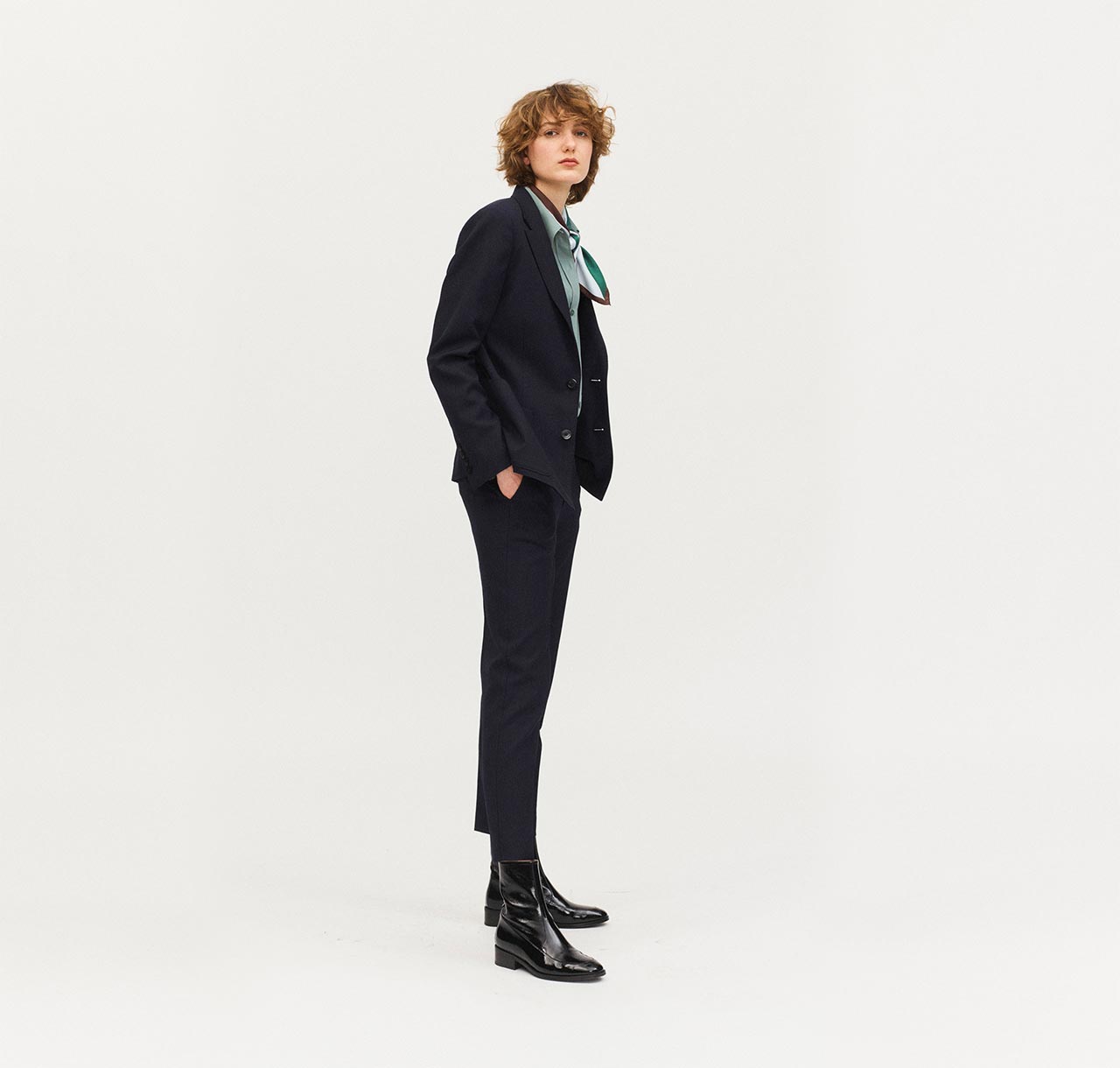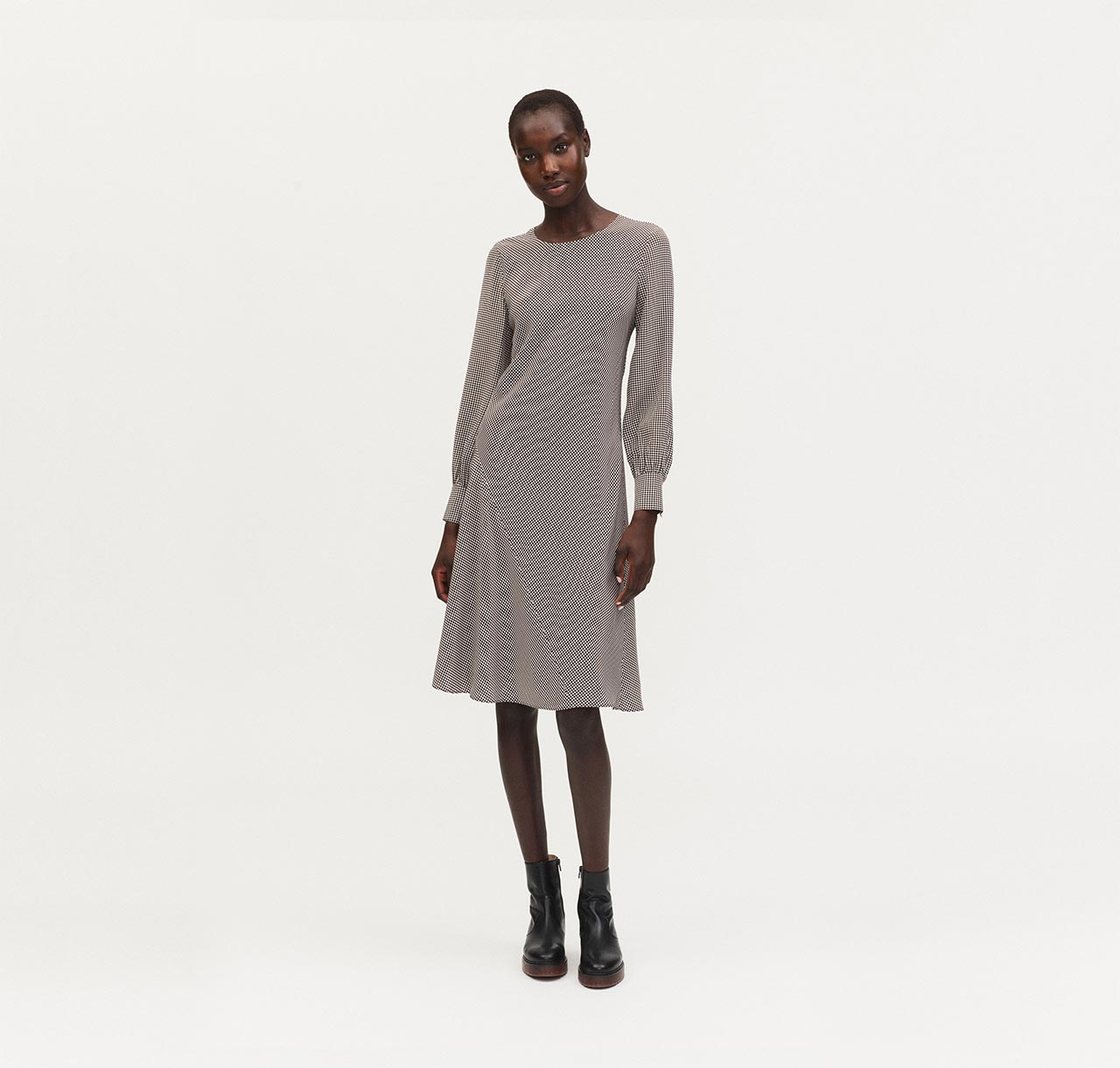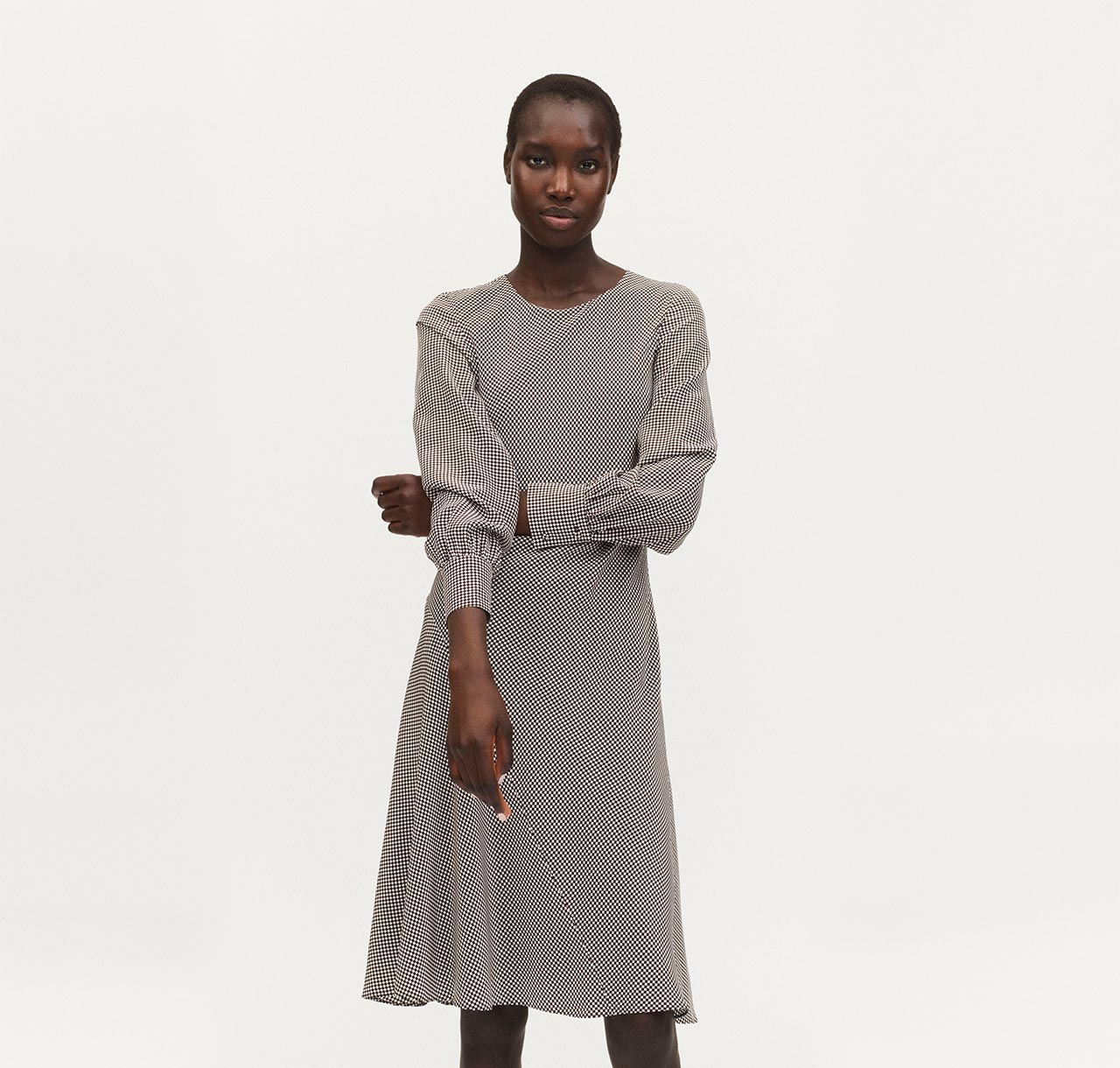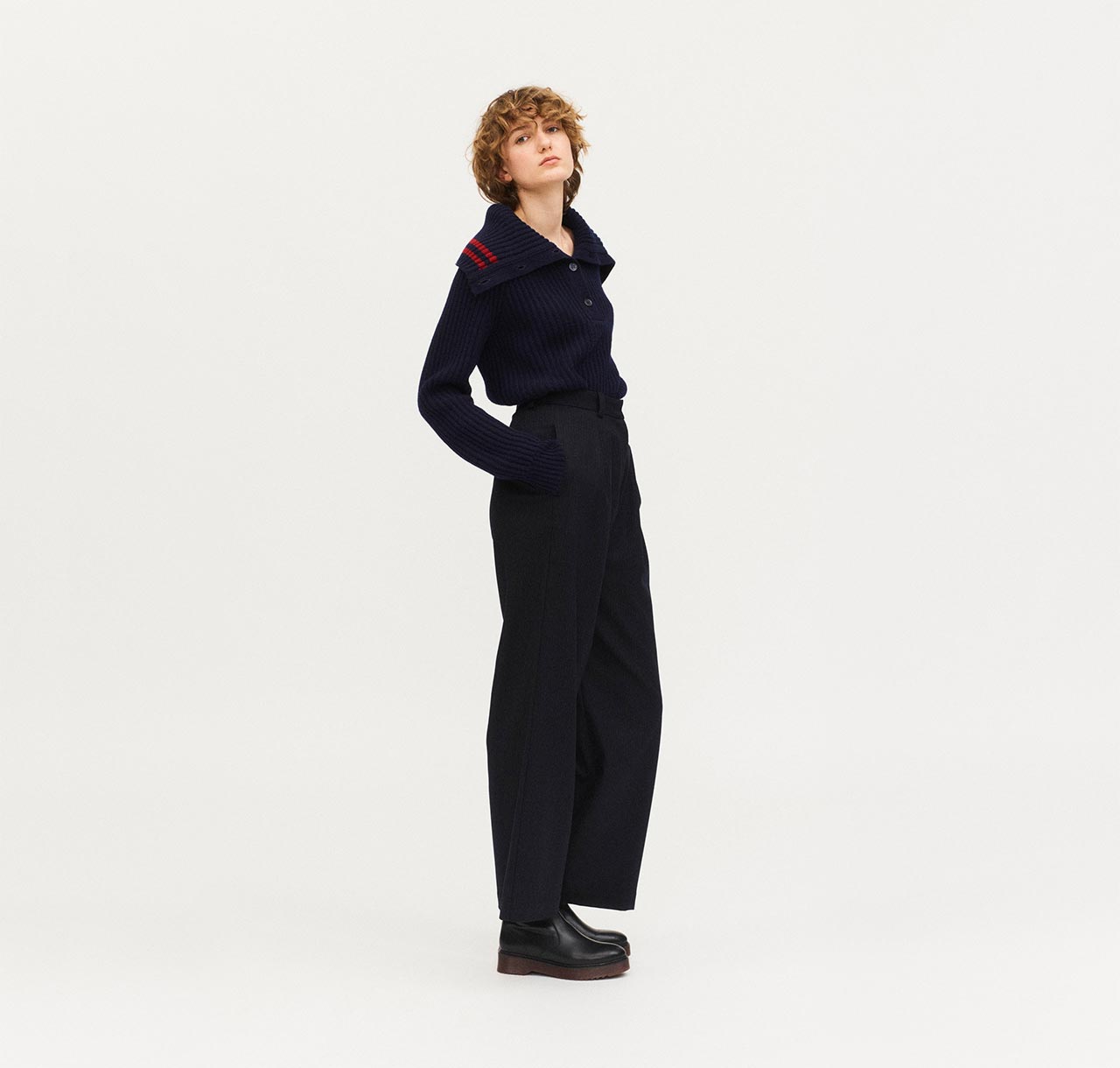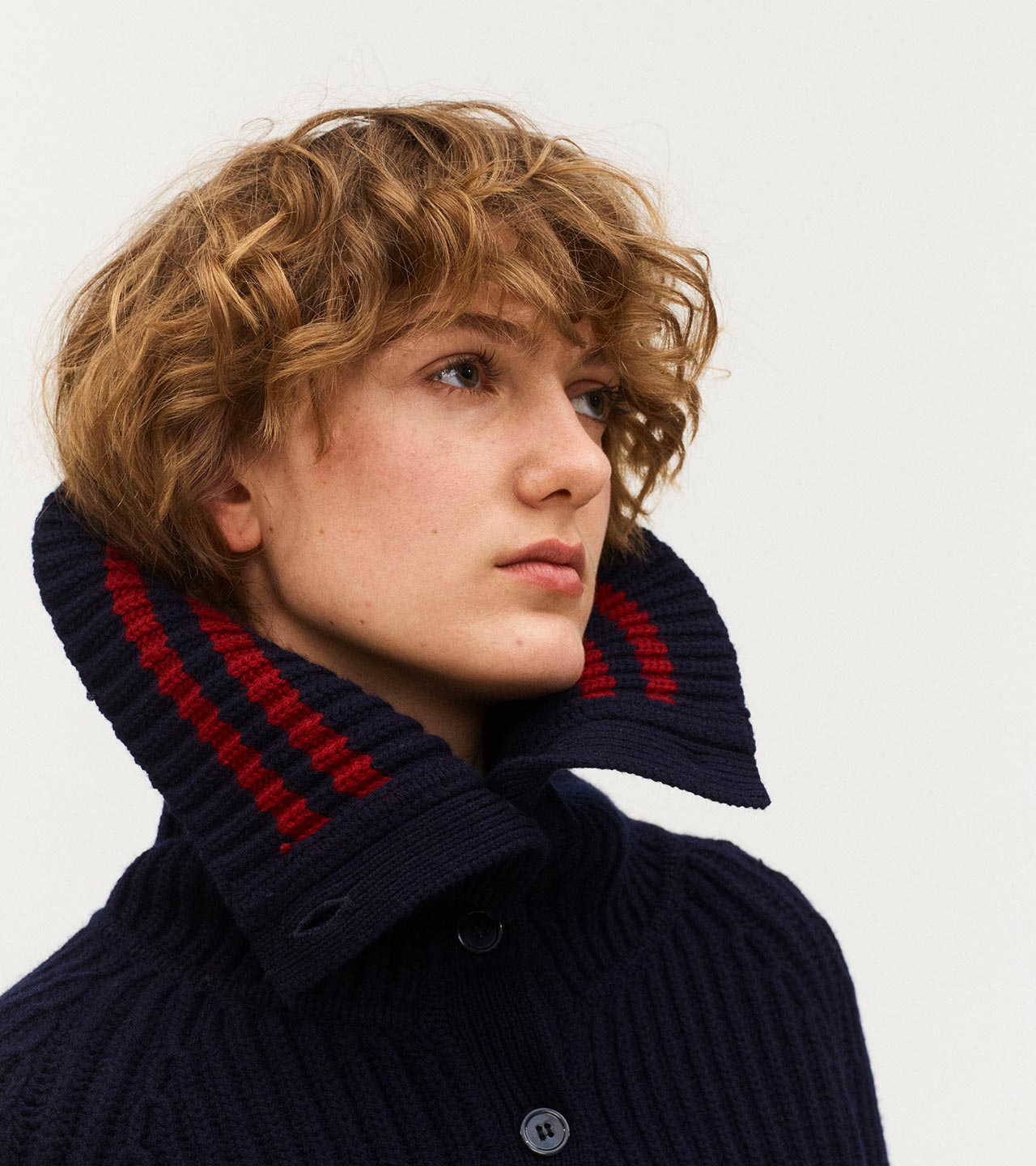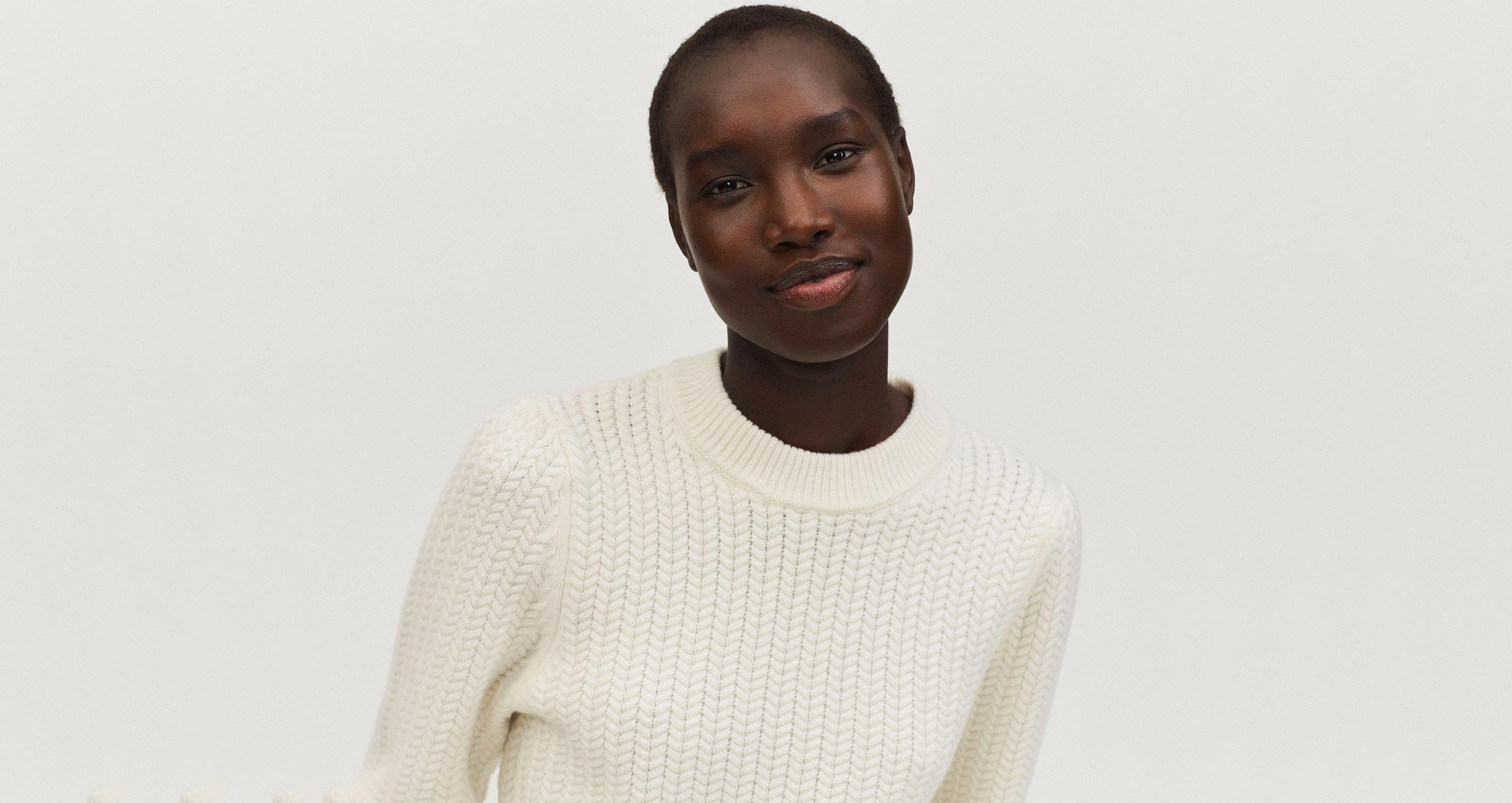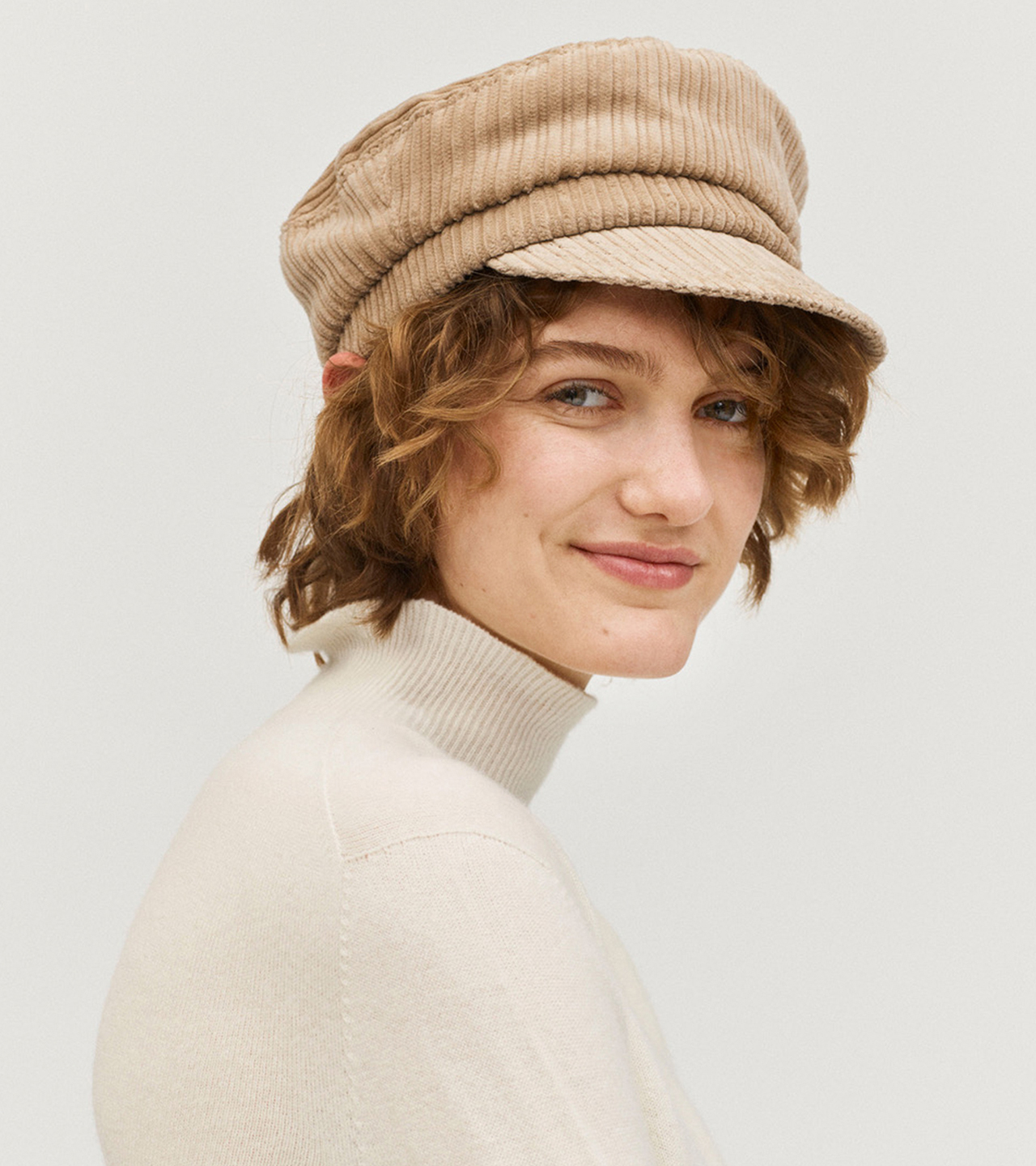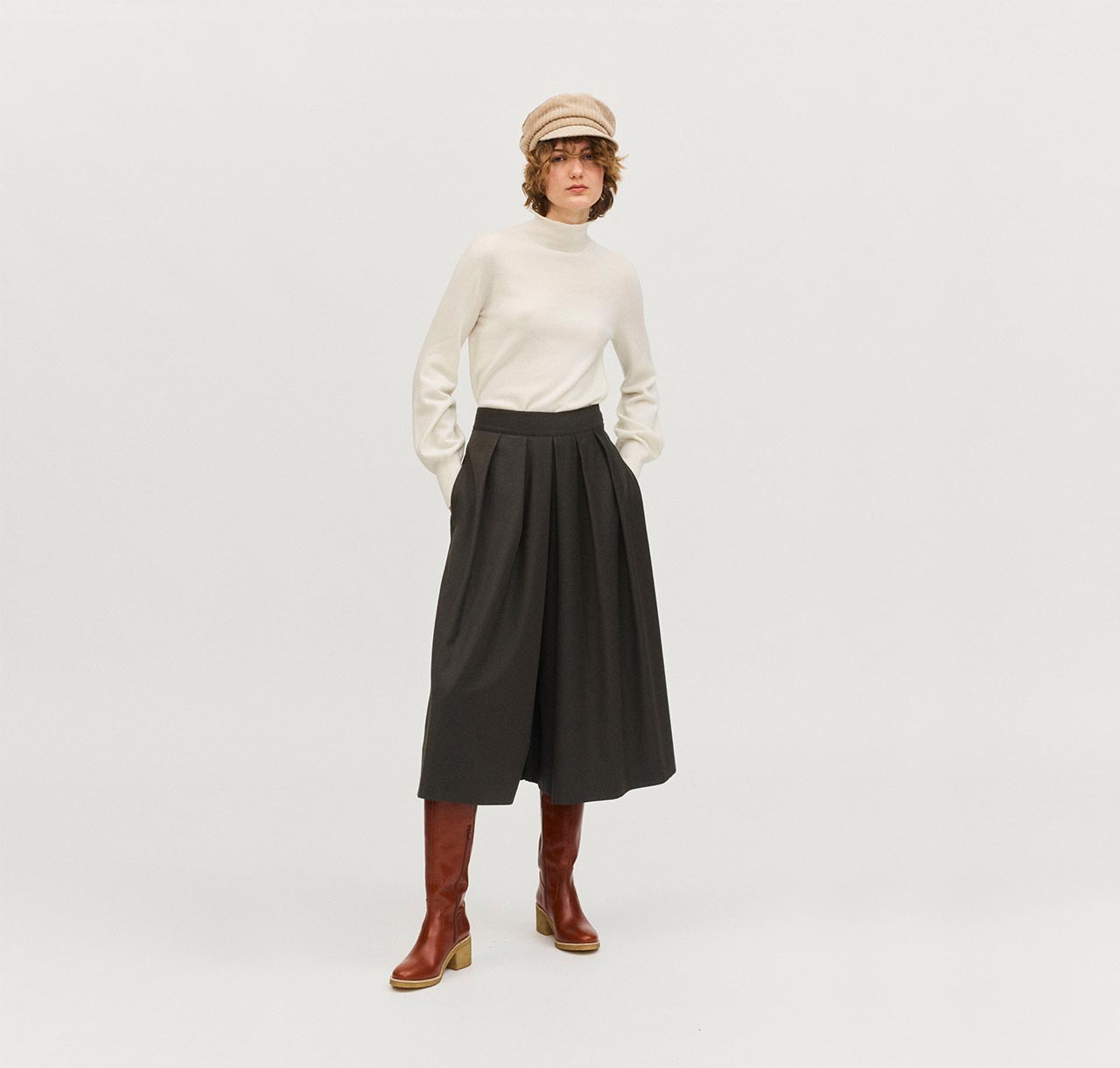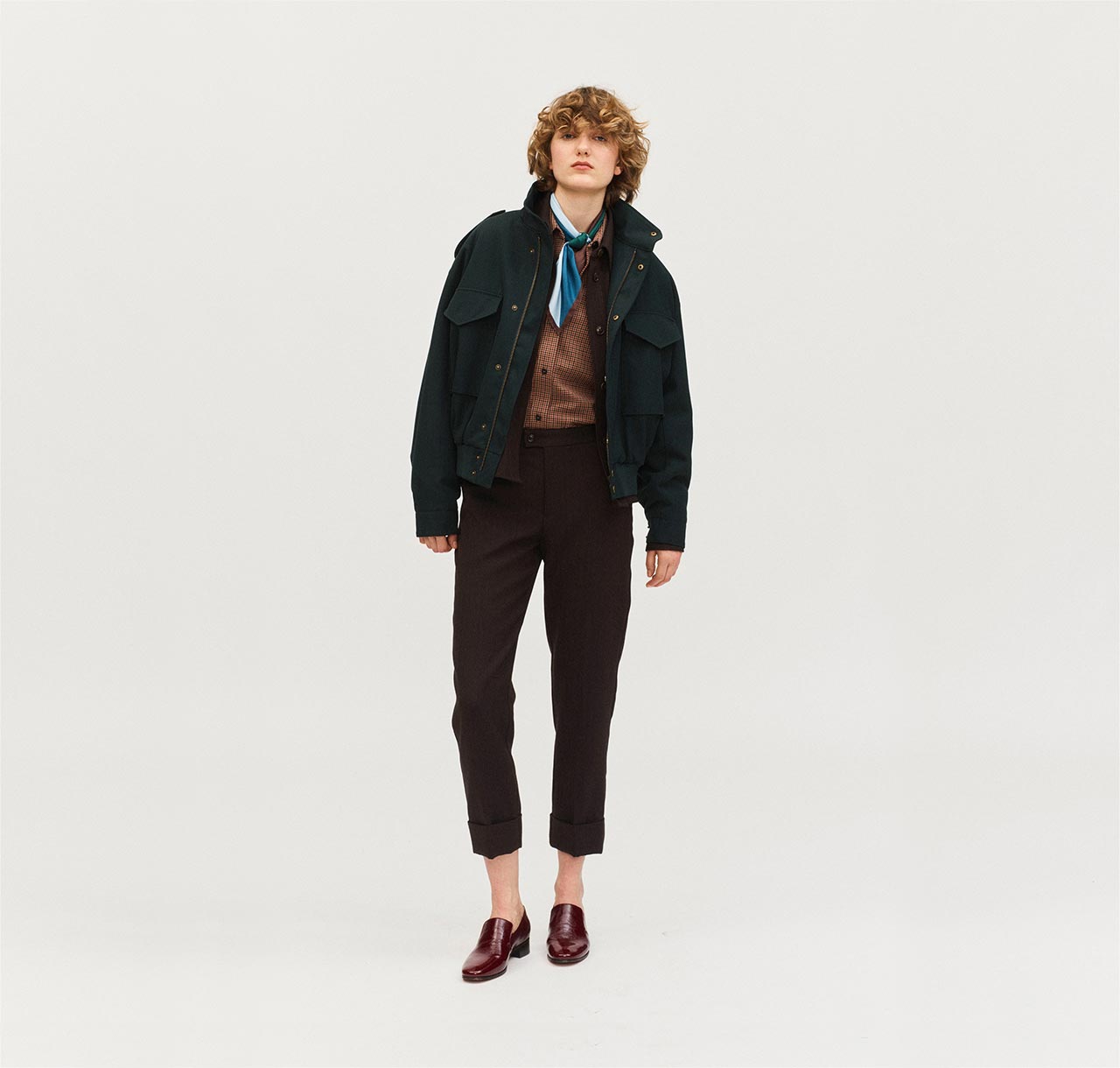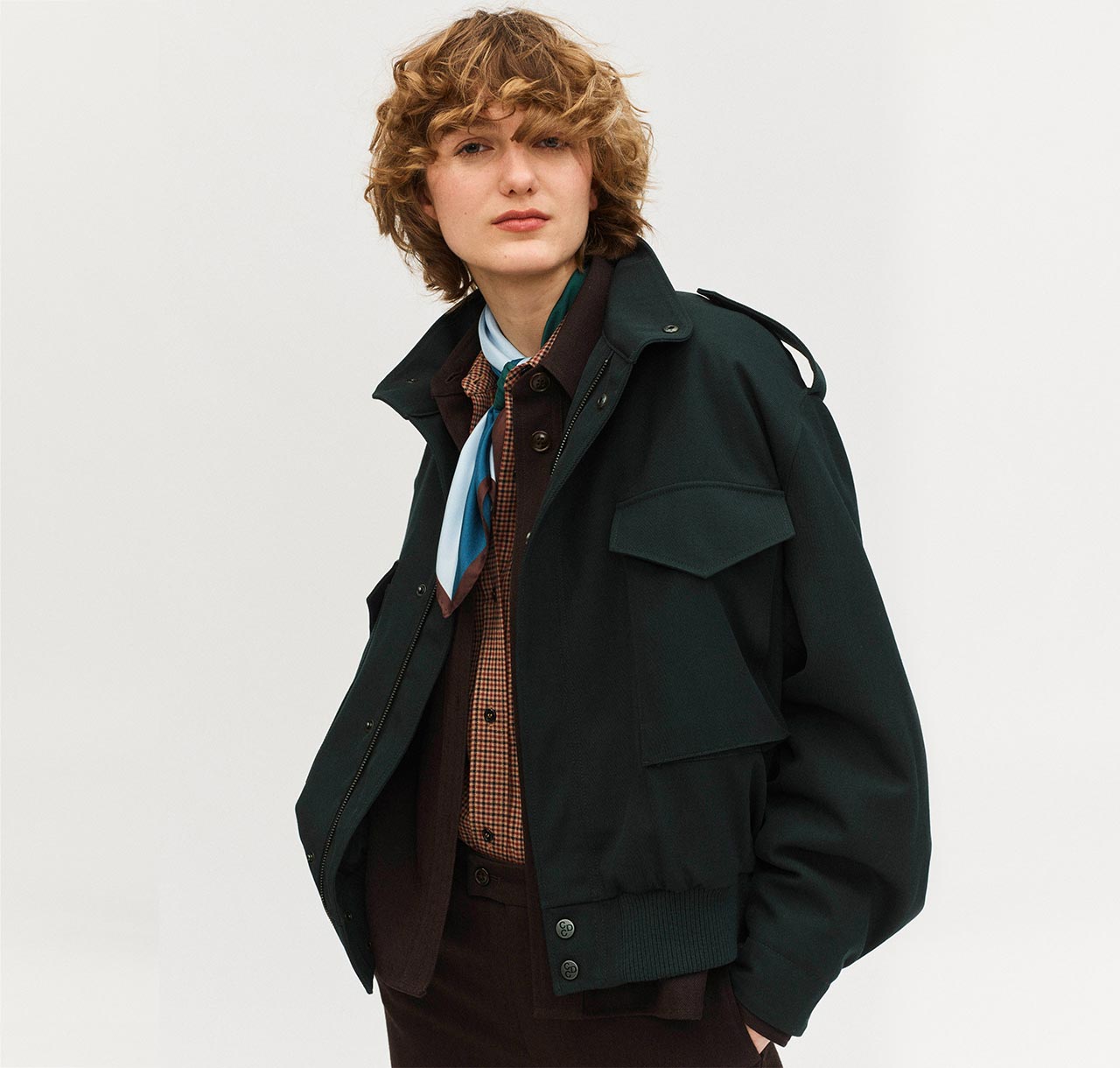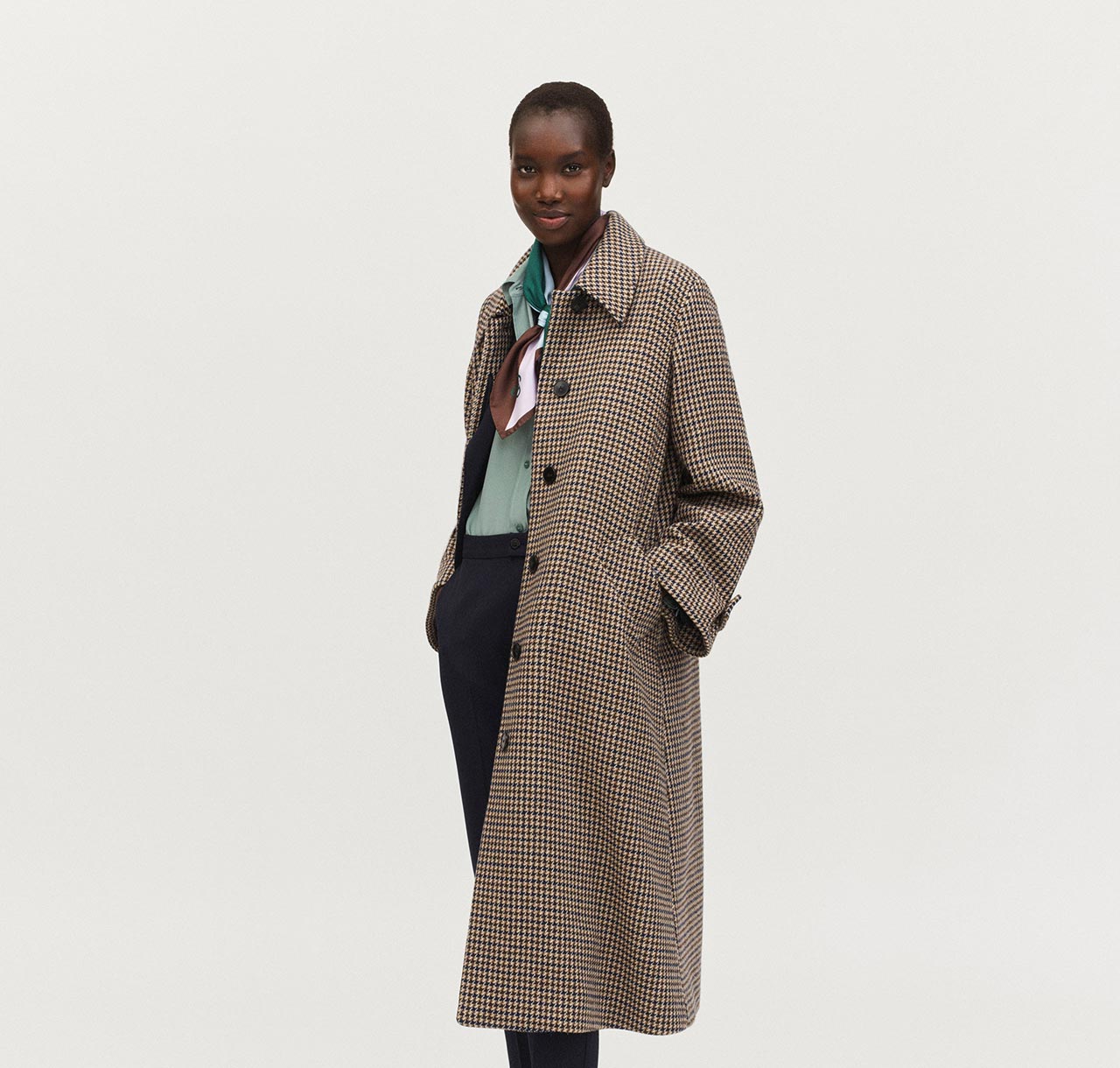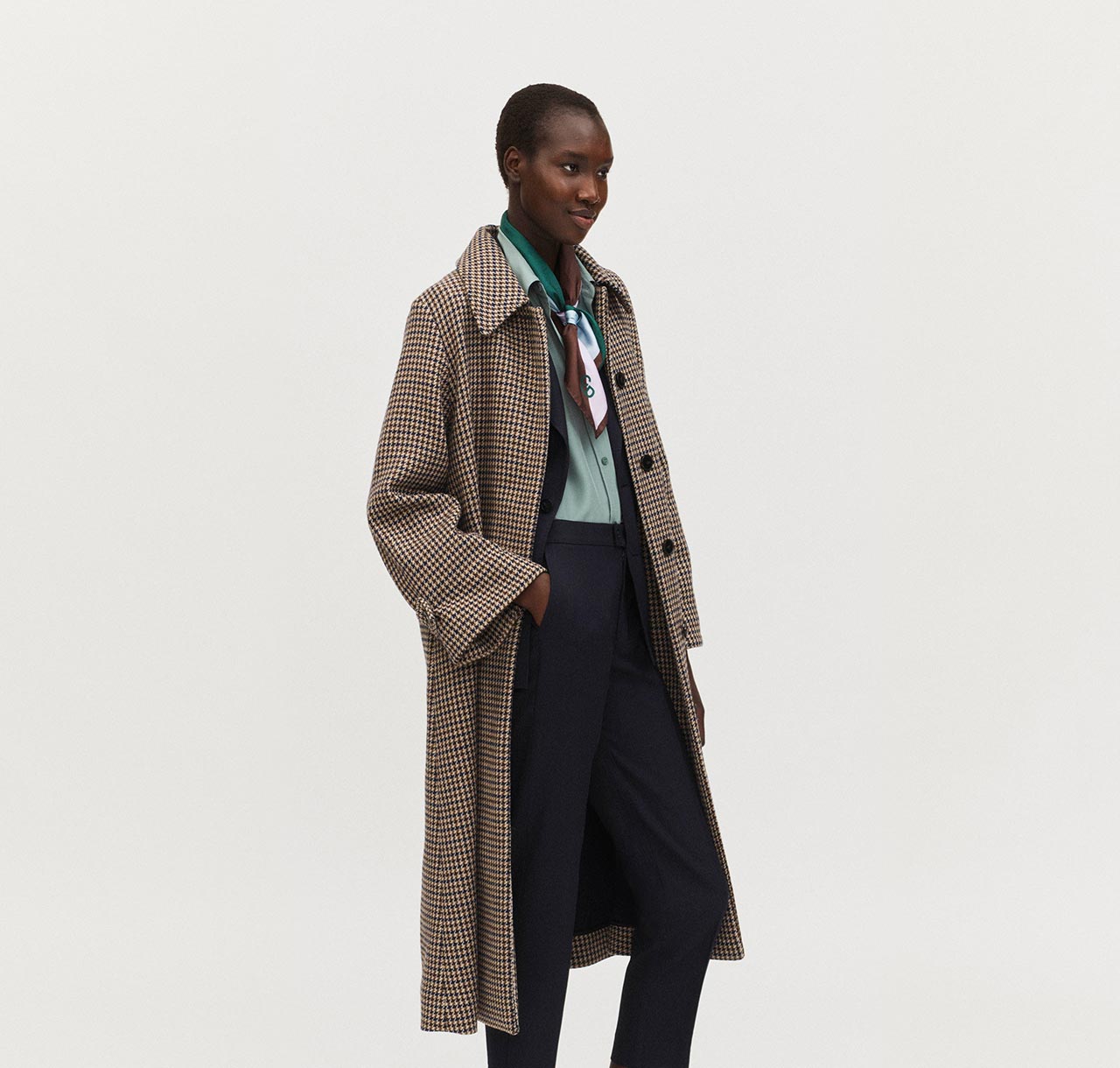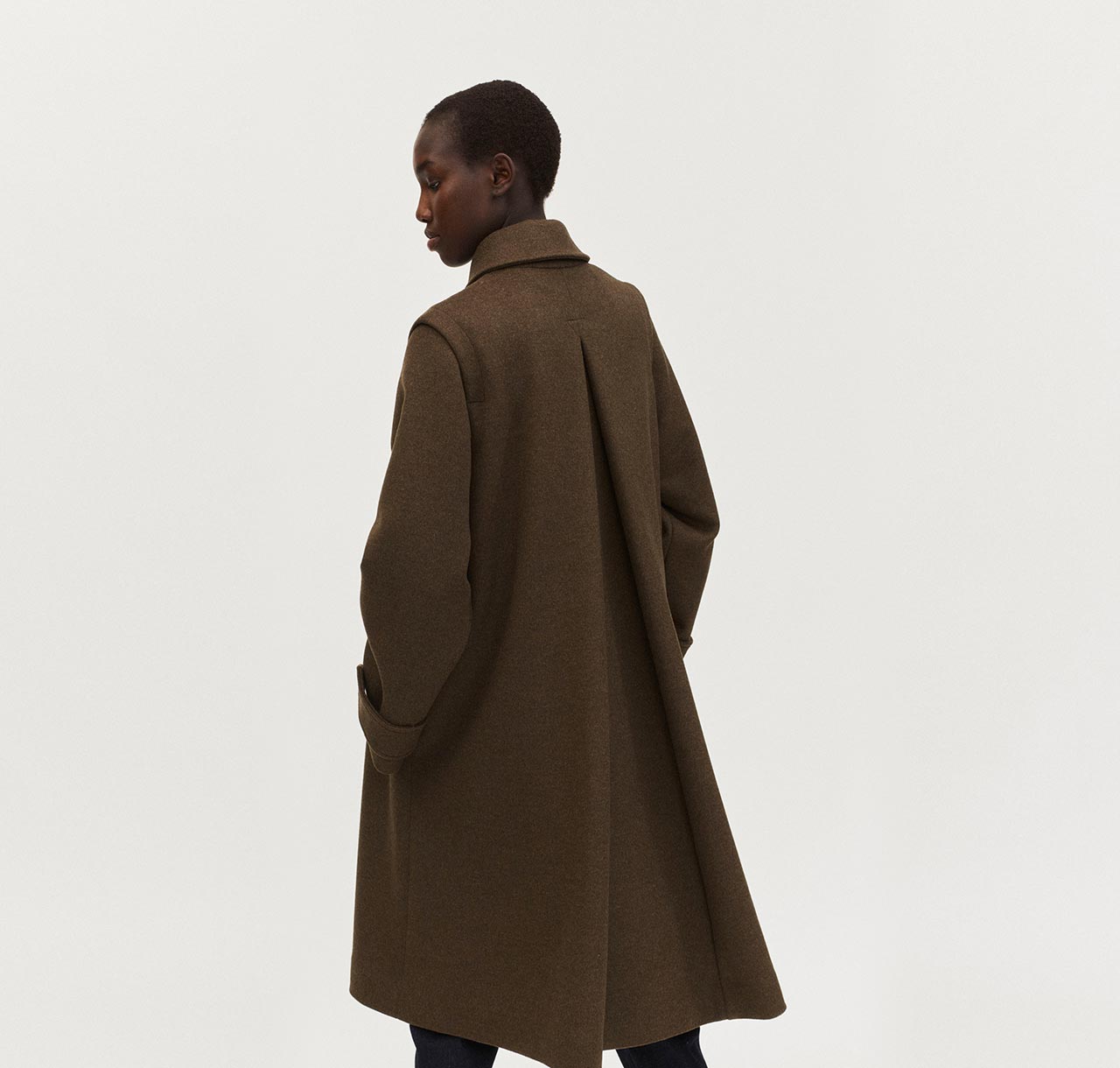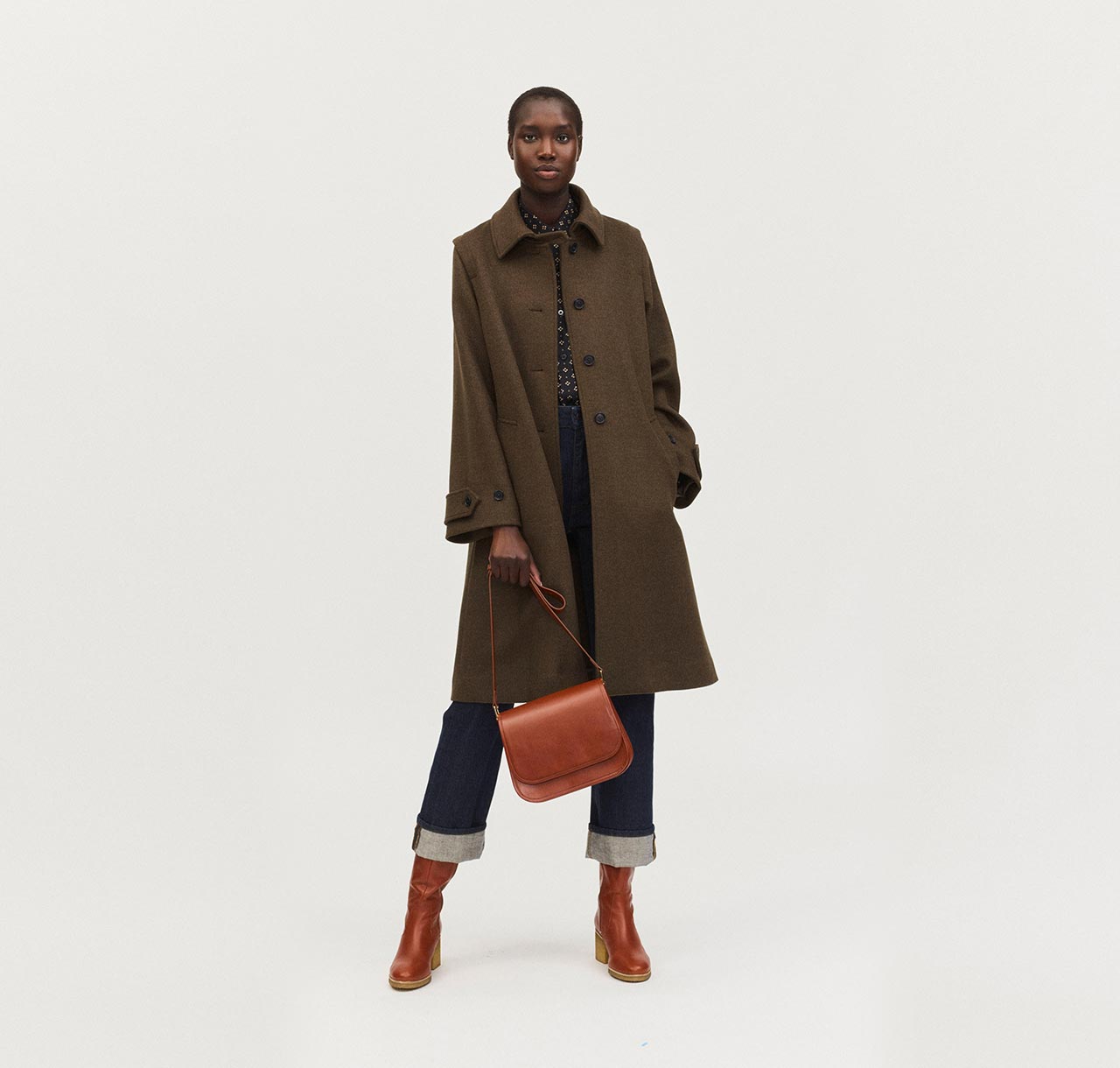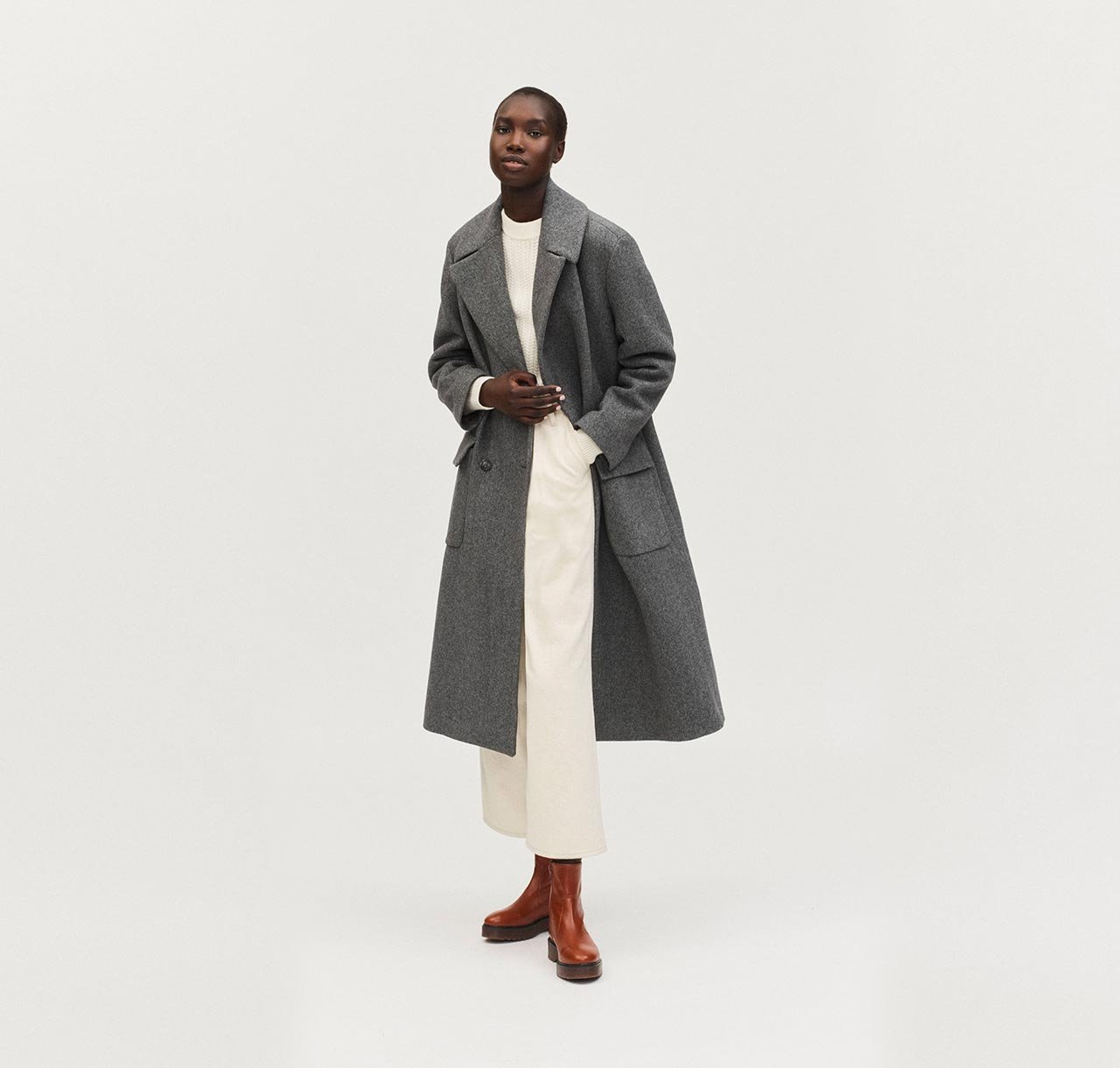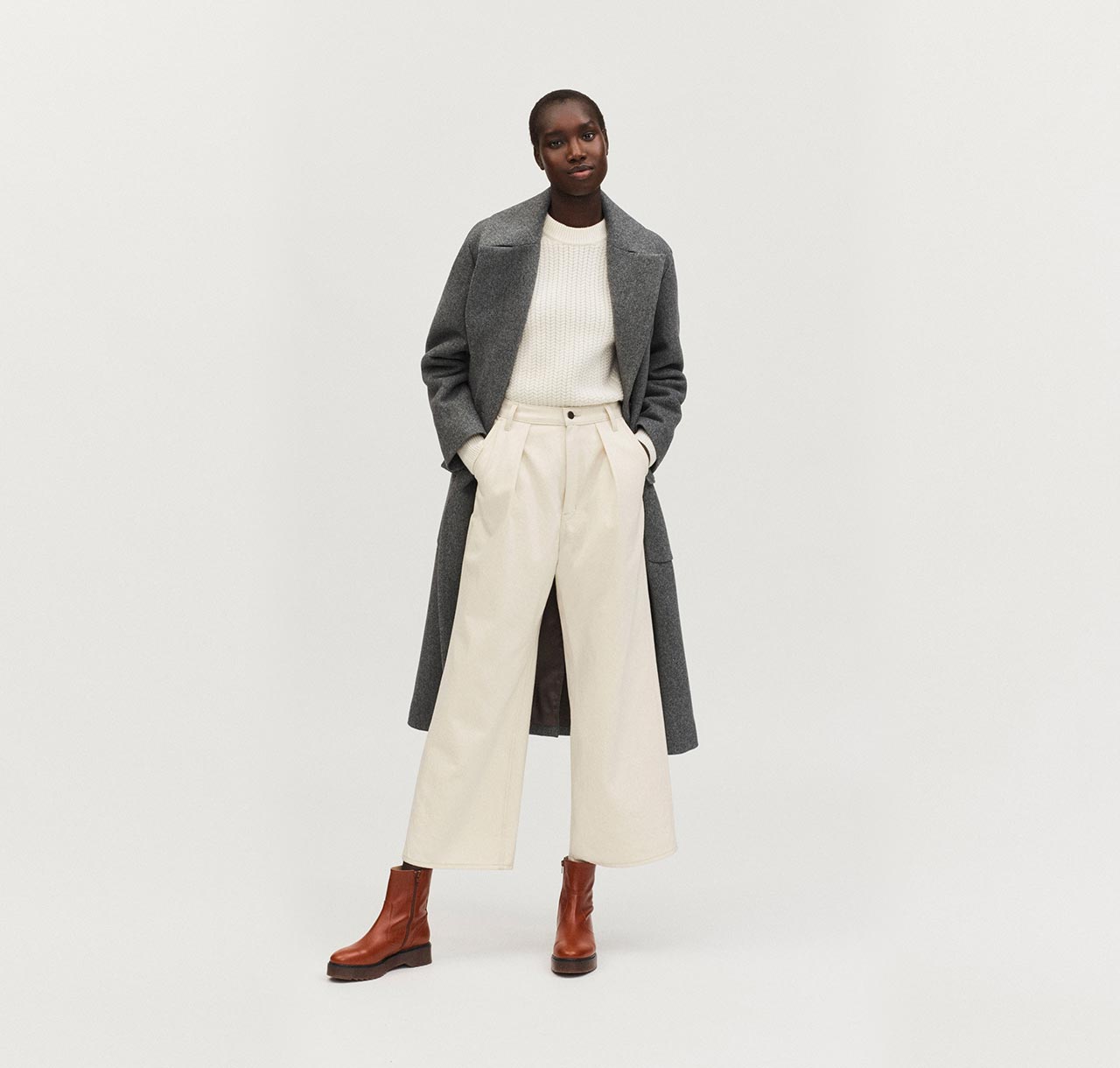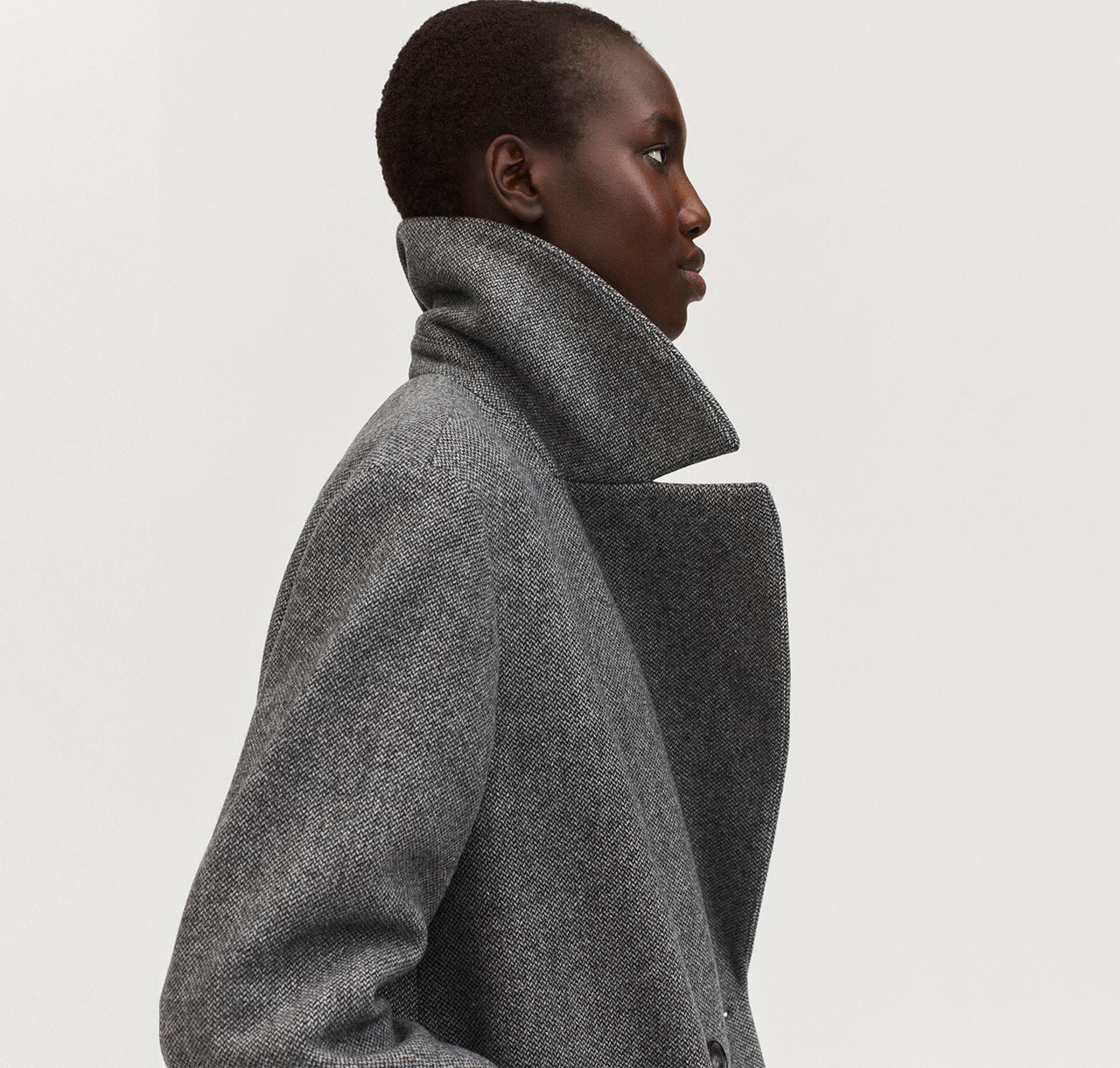 Après une collection inaugurale Printemps/Eté 2020 fort remarquée, la directrice artistique de Comptoir des Cotonniers, Nathalie Marchal, garde la ligne malgré les frimas. C'est l'automne, bientôt l'hiver, mais son vestiaire, déjouant mauvais vents et frissons glacés, affirme plus que jamais l'identité d'une maison résolument française. Cette identité, la voilà : du volume, de la fluidité entre les vestiaires masculin et féminin, un goût pour le chic, mais sans ostentation et sans effort, au service d'une garde-robe essentielle inspirée par quelques maîtresses-femmes qui peuplent notre imaginaire - telles Stéphane Audran, Delphine Seyrig, Marie Laforêt ou Catherine Deneuve. Chez Comptoir des Cotonniers, tout se conjugue à l'intemporel. Car la grammaire de Nathalie Marchal est plus que parfaite : manteaux qui en imposent, pantalons croppés, robes malicieuses, grosses mailles, matières riches, color block.

Les manteaux, quels paravents magnifiques ! Un oversized en tweed italien, avec deux poches plaquées à rabats et col relevé, se porte comme on part à l'assaut de la vie : avec panache. Un autre, en tweed à carreaux et manches évasées, pourrait se résumer en trois mots : allure, allure, allure ! En lainage souple, le « double face » est décliné avec ou sans col, un air de cape ondoyant au gré des pas qui nous mènent au coin de la rue, ou au bout du monde. Enfin, la réinterprétation d'un classique absolu, le loden. Regardons-le bien : dans les tons kaki, le col relevé pour braver la pluie, un pli creux qui prend naissance en haut du dos pour former une virevolte majestueuse… En avant, marche !

Côté vestes, hormis un tailoring subtilement revisité, l'essentiel demeure : profusion de poches et matières haut de gamme (laine italienne ou velours ras qui détonne : bleu canard ou rouge coquelicot). Non doublées mais gansées, les vestes ont de vrais boutons aux poignets, des boutons que l'on peut ouvrir pour remonter ses manches… et au travail ! Allant taquiner les volumes, deux blousons s'imposent. L'un, proche de l'aviateur, s'arrête à la taille. D'un cuir aussi souple que de la soie, il affiche son look épuré, couleur cognac ou noir. L'autre, d'inspiration militaire, se décline en coton vert forêt ou tweed à chevrons. Ses poches plaquées à rabats et son col montant, contredisant sa fonction première, lui donnent une forme arrondie, mutine.

L' hiver, ça rime avec pull-over. Mais pas n'importe lesquels. L'un, à grosses mailles et col camionneur remonté qui va jusque caresser les oreilles, déploie une ligne aussi pure qu'enveloppante. L'autre, rouge vif, a une dégaine infaillible ; ses larges bords-côtes, aux poignets, à la ceinture et sur le col, renforcent son ultra-graphisme. Du graphisme, mais discret. A-t-on besoin de tout voir, que tout s'affiche au premier regard ? Pas forcément ! Ici, un tweed pour costume croisé - costume de banquière ou d'aventurière - dévoile des rayures tremblées, comme de la craie légèrement effacée sur un tableau noir. Là, un imprimé « damier », en noir et blanc, se retrouve sur une robe en soie au col rond, manches à peine bouffantes et petit bouton au dos, comme une virgule qui ouvrirait la marche. Une autre robe, en fin velours côtelé vert sombre, arbore un col officier, droit, sur un boutonnage jusqu'au nombril ; avec ça sur le dos, on file jusqu'en lisière du monde.

C'est l'une des pièces-fétiches de Nathalie Marchal : la chemise. Une nouvelle, en popeline blanche, rejoint la collection. Astuce : son col « fichu », amovible, fixé par trois boutons invisibles, donne l'illusion d'un foulard élégamment noué autour du cou. Par-dessus, un pull jacquard sans manches apporte chaleur et style.
Les pantalons, comme les chemises, lorgnent vers l'utilitaire. Le précis. D'une évidence telle qu'un coup de crayon semble avoir suffi. La ligne revisitée du pantalon de costume donne le tempo : effilé au plus juste, le tombé court, il ose la taille haute, soulignée par une patte-ceinture qui cache le boutonnage. Ainsi se profile une silhouette inédite : le pied est libre, effilé, le mollet vaillant, la coupe large. Il faut pouvoir courir après ses rêves. Une combinaison en velours côtelé, vert forêt encore, s'inspire des vêtements de travail : ici, des mécanos. Mais une mécano stylée, à la jambe ample, au col qui prend ses aises, aux manches retroussées. Tranquille. Précis.

Une nouveauté de saison ; la polaire. Mais pas comme ailleurs. Ultra-travaillée. Doublure à carreaux écossais, col camionneur oversized, ouverture sur les hanches. Volume volume, toute ! Côté accessoires, les foulards en soie organique mixent les triangles colorés tels des panneaux nautiques : embarquement immédiat en bleu canard, lilas, tabac et coquelicot ! Aux pieds, outre une paire de babies et de souliers vernis rappelant le vestiaire masculin des seventies, ce sont des boots qui s'imposent, robustes mais chic, en version cognac ou noir. D'autres bottes hautes, à semelles de crêpe et talon aisé (6,5 centimètres, pas plus !), dessinent une allure sixties. These Boots Are Made For Walkin' chantait Nancy Sinatra… Pour sept lieux ou mille kilomètres, qui sait ? Les sacs, enfin. Une mention spéciale au sac avec bandoulières et anses, pas si mini, qui affiche ses nombreuses poches comme autant de cachettes à malices. Entre couleur tabac ou vernis craquelé noir, on choisit… les deux. Prêtes ?
VOIR TOUTE LA COLLECTION
Following a highly successful Spring/Summer 2020 inaugural collection, Comptoir des Cotonniers' artistic director Nathalie Marchal charts the way despite the cold weather. It's autumn. Winter will soon be knocking on your door with its share of strong winds and icy chills. Yet, her wardrobe reamins the ultimate statement of the brand's resolutely French identity. An identity expressed through volume, fluidity between the men's and women's wardrobe, a taste for effortless and unostentatious chic, in service to an essential wardrobe inspired by some of the iconic women in our imaginations, like Stéphane Audran, Delphine Seyrig, Marie Laforêt and Catherine Deneuve. At Comptoir des Cotonniers, the mood is timeless. And Nathalie Marchal's grammar is beyond perfect: impressive coats, cropped trousers, clever/playful/impish dresses, chunky knits, rich materials, colour block.

Enter the comfy and elegant survival mode with our coats! An Italian tweed oversized, with two flap pockets and a stand collar, set to take on the world, with panache. Another, in check tweed with flared sleeves, can be coined in 3 words: allure, allure, allure! The "double face", made of soft wool, like a cloak swaying with every step leading us to the end of the street or the end of the world, comes with or without a collar. Lastly, an absolute classic revisited, the Loden. In khaki tones, with a stand collar to brave the rain, and inverted pleat from the top of the back for a flowing swirl as you walk, it's a must... Forward, march! As for jackets, apart from a subtly revisited tailoring, the essential remains: a profusion of pockets and high-end fabrics (Italian wool, bright duck blue or poppy red velvet). Unlined but piped, cuffs with real buttons, so you can open to roll up your sleeves... and get to work! When it comes to playing with volumes, two jackets claim the spot. The first, reminiscent of a bomber (flight jacket), stops at the waist. Made of soft cognac or black leather, its streamlined design is your go-to choice companion for cooler days. The other, of military inspiration, comes in forest green cotton or herringbone tweed. Defying its original function, its patch pockets with flaps and stand collar give it a rounded, edgy shape.

Winter rhymes with sweater. But not just any sweaters. The first, with its chunky knit and enveloping trucker-style neckline, wraps up to your ears and keeps them warm. The other, bright red, with wide ribbed cuffs, waistband and collar to top its ultra-graphic design, is a sure hit. Graphic, yes, but subtle. Do we really need to see it all at first glance? Not necessarily! Here, a tweed cloth for a cross-dressing suit, halfway between a banker's and an explorer's, reveals quivering stripes, like chalk lightly brushed on a blackboard. Here, a black and white "checkerboard" print adorns a silk dress with a round collar, slightly puffed sleeves and a small button on the back, like a comma that would lead the way. Another dress, in fine dark green corduroy, has a mandarin collar and buttons down to the navel; thus attired, you can run to the edge of the world. This is one of Nathalie Marchal's favourite pieces: the shirt. This season, a new white poplin shirt joins the collection. Tip: its removable "fichu" collar, fastened by three invisible buttons, gives the illusion of a scarf elegantly tied around the neck. Worn over it, a sleeveless jacquard pullover adds warmth and style.

Trousers, like shirts, are all about utility. Precision. So obviously so that a single pencil stroke seems to suffice. The revisited line of the suit trousers sets the tempo: tapered to perfection, cropped, it flaunts a high waist, underlined by a belt tab that conceals the buttons. This gives rise to a new silhouette: the foot is loose, tapered, the calf is valiant and the cut is wide. After all, you do need to be in a position to chase your dreams. A forest green corduroy jumpsuit is inspired by work clothes, in this case, mechanics. But a stylish mechanic, with a wide leg, a comfortable collar and rolled up sleeves. Quiet. Precise.

A seasonal novelty; the fleece. But one of a kind. Ultra-crafted. Tartan check lining, oversized trucker collar, hip slits. Volume, and more volume! On the accessories side, the organic silk scarves combine colourful triangles like nautical panels: immediate boarding in duck blue, lilac, tobacco and poppy red! For footwear, besides a pair of T-strap and patent leather shoes reminiscent of men's seventies wardrobe, boots take centre stage, sturdy but chic, in cognac or black versions. Other knee-high boots, with crepe soles and an easy heel (6.5 centimetres, no more!), create a sixties look. These Boots Are Made For Walkin' sang Nancy Sinatra... For seven leagues or a thousand kilometres, who knows? Last but not least, bags. A special mention to bags with shoulder straps and handles, not so mini, with many pockets for many places to hide mischief. Between tobacco colour or black cracked patent, you can choose... both.
SEE THE COLLECTION
Nach einer hoch gelobten Eröffnungskollektion Frühjahr-Sommer 2020 behält die künstlerische Leiterin des Comptoir des Cotonniers, Nathalie Marchal, ihre Linie trotz des kalten Wetters bei. Es ist Herbst, bald Winter, aber ihre Garderobe, die starken Winden und eisigen Schauern trotzt, unterstreicht mehr denn je die Identität eines entschieden französischen Hauses. Diese ganz besondere Identität kommt voluminös, mit einem fließenden Übergang zwischen der männlichen und der weiblichen Garderobe, einer gewissen Vorliebe für Chic, aber ohne Prunk oder Anstrengung – eine essenzielle Garderobe in Anlehnung an inspirierende und beeindruckende Frauen wie Stéphane Audran, Delphine Seyrig, Marie Laforêt oder Catherine Deneuve. Bei Comptoir des Cotonniers ist alles zeitlos. Denn das Konzept von Nathalie Marchal ist mehr als vollkommen: imposante Mäntel, gecroppte Hosen, freche Kleider, große Maschen, hochwertige Materialien und Colour Blocking.

Unfassbar prachtvolle Mäntel! Den übergroßen Mantel aus italienischem Tweed mit zwei aufgesetzten Taschen mit Verschlusskappen und einem hohen Kragen, zum Beispiel, trägt man beherzt und voller Stolz! Einen anderen, in Karo-Tweed mit ausgestellten Ärmeln, könnte man folgendermaßen in nur zwei Worten zusammenfassen: einfach umwerfend! Der "Double Face" aus geschmeidiger Wolle ist mit oder ohne Kragen erhältlich. Der umhangähnliche Look bewegt sich beim Gehen wellenförmig mit und führt uns entweder nur die Straße herunter oder bis ans Ende der Welt. Und schließlich die Neuinterpretation eines absoluten Klassikers, des Lodenmantels. Genau hingesehen: in Kaki-Tönen, mit hochgezogenem Kragen, der dem Regen trotzt und mit eine Hohlfalte, die oben auf dem Rücken beginnt und sich in einzigartiger Eleganz nach unten hin öffnet ... Was wollen wir mehr!

Was die Jacken betrifft, so bleibt, abgesehen von einer leicht überarbeiteten Verarbeitung, das Wesentliche erhalten: eine Fülle von Taschen und hochwertigen Materialien (italienische Wolle oder augenfälliger Kurzsamt in Petrolblau oder Mohnrot). Die ungefütterten, aber mit Handschuhen versehenen Jacken haben echte Knöpfe an den Manschetten, Knöpfe, die Sie öffnen können, um die Ärmel hochzukrempeln ... also ran an die Arbeit! Wenn man Volumen möchte, braucht man zwei Jacken. Zuerst eine, die im Stil einer Fliegerjacke an der Taille endet. Das Leder ist geschmeidig wie Seide und offenbart sein edles, cognacfarbenes oder schwarzes Aussehen. Und dann noch eine andere Jacke im militärischen Stil, aus waldgrüner Baumwolle oder Fischgräten-Tweed. Ihre aufgesetzten Taschen mit Verschlusskappen und Stehkragen, die mit dem restlichen Look kontrastieren, verleihen ihr eine abgerundete und zugleich rebellische Form.

Winter reimt sich auf Pullover. Aber nicht irgendwelche Pullover. Der eine, mit groben Maschen und einem so hohen Stehkragen, der fast die Ohren berührt, besticht durch eine ebenso klare wie einhüllende Linie. Ein anderer, leuchtend rot, erhält durch breiten Ärmelbündchen aus Rippstrick sowie einen Rippstrick-Bund und -Kragen ein ultragrafisches und makelloses Design. Grafisch gestaltet, aber dennoch unaufdringlich. Muss man wirklich alles gleich auf den ersten Blick sehen? Nicht unbedingt! Der Tweed dieses Anzugs – der genauso einer Bankerin wie einer Abenteuerin stehen steht – offenbart hier leicht zitternde Streifen, wie Kreide, die leicht auf einer Tafel verwischt wurde. Und hier haben wir ein Seidenkleid mit schwarz-weißem Schachbrettmusterdruck, rundem Kragen, leichten Puffärmeln und einem kleinen Knopf auf dem Rücken, der wie ein Komma, Neues verspricht. Ein anderes Kleid, aus feinem dunkelgrünem Cord, hat einen geraden Offizierskragen mit einer Knopfleiste bis zum Bauchnabel führt uns bis ans Ende der Welt.

Die Bluse gehört zu den Kleidungsstücken, die es Nathalie Marchal ganz besonders angetan haben. Eine neue, aus weißem Popeline, wird in die Kollektion aufgenommen. Hinweis: Sein abnehmbarer "Fichu"-Kragen, der durch drei unsichtbare Knöpfe zusammengehalten wird, vermittelt die Illusion eines elegant um den Hals gewickelten Schals. Darüber bringt ein ärmelloser Jacquard-Pullover wohlige Wärme und Stil. Hosen und Blusen sollen vor allem praktisch und komfortabel sein. Präziser geht's nicht. Mit einer so klaren Linie, als hätte man sie mit einem Bleistift gezogen. Die überarbeitete Linie der Anzughose gibt den Takt vor: Die gecroppte Hose läuft unten zu, besitzt eine gewagte hohe Taille sowie eine Gürteltasche, die die Knöpfe verdeckt. Das Ergebnis ist eine neue Silhouette: Der Fuß ist frei, das Hosenbein läuft spitz zu, eine perfekt in Form gesetzte Wade und ein breiter Schnitt. Man muss schließlich in der Lage sein, seine Träume zu verfolgen. Der samtgrüne Cordanzug ist von der Arbeitskleidung von Automechanikern inspiriert. Aber einer stilvollen Mechanikerin, mit einem breiten Bein, einem bequemen Kragen und hochgekrempelten Ärmeln. Ruhig. Klar. Eine saisonale Neuheit: das Vlies. Aber nicht so wie man es kennt. Sondern super aufwendig gearbeitet. Innenfutter mit Schottenkaromuster, übergroßen Stehkragen und Öffnung an der Seite. Wir wollen Volumen! Auf der Seite der Accessoires freuen wir uns auf die Bio-Seidenschals und die farbigen, nautischen Dreieckstücher in Petrolblau, Flieder, Tabakbraun und Mohnrot! Was die Füße betrifft, sind neben einem Paar Babies und Lackschuhen, die an die Herrenmode der 1970er-Jahre erinnern, Stiefel die nahe liegende Wahl: robust, aber schick, in cognacfarbener oder schwarzer Ausführung. Andere hohe Stiefel, mit Kreppsohlen und leichten Absätzen (6,5 Zentimeter, nicht mehr!) entführen uns ihrerseits in die 1960er. Those Boots Are Made For Walkin' sang Nancy Sinatra ... Für sieben Städte oder tausend Kilometer, wer weiß?

Und nun endlich die Taschen. Eine besondere Erwähnung verdient die nicht so kleine Tasche mit Schulterriemen und Henkeln, in deren vielen Taschen Sie alles Mögliche verstecken können. Sie können zwischen tabakbraunem oder schwarzem Crack- Lack wählen ... oder beide nehmen. Sind Sie bereit?
Entdecken Sie die Kollektion
Después de una colección inaugural Primavera/Verano 2020 muy destacada, la directora artística de Comptoir des Cotonniers, Nathalie Marchal, mantiene la línea a pesar del tiempo fresco. Es el otoño, pronto será el invierno, pero la ropa, contrarrestando malos vientos y escalofríos helados, afirma más que nunca la identidad de una firma decididamente francesa. Esta es la identidad: volumen, fluidez entre el vestuario masculino y femenino, gusto por lo chic, pero sin ostentación y sin esfuerzo, al servicio de un guardarropa esencial inspirado por algunas mujeres de armas tomar que habitan en nuestra imaginación, como Stéphane Audran, Delphine Seyrig, Marie Laforêt o Catherine Deneuve. En Comptoir des Cotonniers, todo va unido a lo atemporal. Porque el lenguaje de Nathalie Marchar es más que perfecto: abrigos impresionantes, pantalones cropped, vestidos atrevidos, punto grueso, tejidos ricos, color block.

¡Los abrigos, esos magníficos escudos! Un abrigo oversized de tweed italiano, dos bolsillos parche con solapas y cuello levantado, se lleva como nos enfrentamos a la vida: con desenvoltura. Otro, de tweed de cuadros y mangas acampanadas, podría resumirse en tres palabras: ¡estilo, estilo, estilo! Con lana suave, el tejido de «doble cara» se presenta con o sin cuello, con un aire de capa ondulando al ritmo de nuestros pasos que nos llevan al final de la calle, o al fin del mundo. Por último, la reinterpretación de un clásico absoluto: el loden. Mirémoslo bien: en tonos caqui, el cuello levantado desafiando a la lluvia, el pliegue en tabla que nace en lo alto de la espalda y forma una caída majestuosa... ¡Adelante, en marcha! En cuanto a las chaquetas, salvo el estilo sastre sutilmente revisitado, lo esencial permanece: profusión de bolsillos y tejidos de gama alta (lana italiana o terciopelo con fuertes colores: azul pato o rojo amapola). Las chaquetas, sin forro pero con cordoncillo, tienen auténticos botones en los puños, botones que se pueden abrir para remangar las mangas... ¡y a trabajar! Para jugar con los volúmenes, se imponen dos cazadoras. Una, con códigos de aviador, llega hasta la cintura. Con cuero tan suave como la seda, muestra un look de líneas puras, ya sea en color cognac o negro. La otra, de inspiración militar, se presenta en algodón verde bosque o tweed con espigas. Sus bolsillos parche con solapa y el cuello subido, contradiciendo su primera función, le aportan una forma redondeada, rebelde.

En invierno, no pueden faltar los jerséis. Pero no cualquiera. Uno, con punto grueso y cuello alto con cremallera que llega hasta acariciar las orejas, muestra una línea tan pura como envolvente. El otro, rojo vivo, tiene un aspecto infalible: sus anchos canalés, en los puños, la cintura y el cuello, refuerzan su ultragrafismo. Grafismo, pero discreto. ¿Es necesario que se vea todo al primer vistazo? ¡No forzosamente! Aquí, un tweed para traje cruzado —traje de banquero o de aventurera— deja ver rayas poco marcadas, como la tiza ligeramente borrada sobre un encerado. Ahí, un estampado «damero», en blanco y negro, se encuentra en un vestido de seda con cuello redondo, mangas ligeramente abombadas y un pequeño botón en la espalda, como la unión de las prendas de la colección. Otro vestido, de fina pana verde oscuro, muestra un cuello militar, recto, sobre una tira de botones hasta el ombligo; con esto, nos vamos hasta el lindero del mundo. Una de las prendas preferidas de Nathalie Marchal: la camisa. Una nueva, de popelina blanca, se une a la colección. Un detalle: su cuello «con pañuelo» , desmontable, fijado con tres botones ocultos, da la impresión de un fular elegantemente anudado alrededor del cuello. Por encima, un jersey de jacquard sin mangas aporta calidez y estilo. Los pantalones, como las camisas, buscan la utilidad. Lo justo. De tal obviedad que un trazo de lápiz parece haber bastado. La línea renovada del pantalón de traje marca el compás: alargado en su justa medida, la caída corta, se atreve con el talle alto, resaltado por una presilla en la cintura que oculta los botones. Así, se perfila una silueta inédita: el pie libre, estilizado, la valiente pantorrilla, el corte ancho. Hay que poder correr tras los sueños. Un mono de pana, verde bosque de nuevo, se inspira en la ropa de trabajo: en este caso, de los mecánicos. Pero una mecánica con estilo, con pierna ancha, un cuello que campa a sus anchas y mangas remangadas. Tranquilo. Justo.

Una novedad de temporada: el polar. Pero no como en otras partes. Ultratrabajado. Forro de cuadros escoceses, cuello alto con cremallera oversized, abertura en las caderas. ¡Volumen, a todo volumen! En cuanto a los accesorios, los fulares de seda orgánica mezclan los triángulos de colores como paneles náuticos: embarque inmediato de azul pato, lilas, tabaco y amapola. En los pies, además de unas merceditas y zapatos de charol que recuerdan el vestuario masculino de los setenta, se imponen botines, robustos pero chics, en versión cognac o negros. Otras botas altas, con suelas de crepé y tacón cómodo (6,5 centímetros, ¡no más!), dibujan un estilo de los sesenta. These Boots Are Made For Walkin' cantaba Nancy Sinatra… Para siete leguas o mil kilómetros, ¿quién sabe? Por último, los bolsos. Mención especial para el bolso con bandolera y asas, no tan mini, que incluye numerosos bolsillos como escondites de juguetes. Entre color tabaco o charol agrietado negro, elegimos... los dos.

¿Preparadas?
descubre la colección